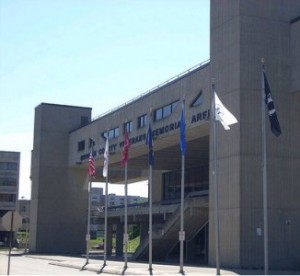 It's the coldest day of the new year here in the 607, the Amerks are on the bus head ingdown to play against the Binghamton Senators tonight at Broome County Veterans Memorial Arena.
The Amerks are coming off of a high scoring game where they beat the Hamilton Bulldogs by the final score of 6-5.  Rookie defenseman Jason Garrison led the way with a single-game best four-point performance, while Shawn Matthias (2+1) and Cory Murphy (1+2) each chipped in with three points apiece to earn third, first and second star honors, respectively. Goaltender Mike Brodeur made 29 saves to record his 10th win as an Amerk.
History isn't in favor of the Amerks in Binghamton though, they dropped a 4-2 decision in the previous meeting with the B-Sens on January 10th. The Amerks are winless this season against the Senators and are 19-25-4 all-time against the Ottawa Senators' affiliate.  The B-Sens are 9-0-0-1 in their last 10 games against Rochester dating back to the beginning of the 2007-08 season.
The key to winning is stopping Denis Hamel from touching the puck.  If that can happen the Amerks may have a chance.
Scoring some goals could also help as well.. especially coming and scoring fast.
Riley Emmerson could also be back in the lineup tonight after being out for a few weeks with a sprained ankle, maybe he can punch Hamel and throw him off his game.
Still no word on the status of Cory Murphy.  If the Panthers choose they could send him here to continue playing, it'd be a great help if they did.
The 7:05 p.m. non-divisional contest will be the third of eight scheduled meetings between the two teams this season and will be broadcast live on SportsRadio 1280 WHTK, whtk.com and AHL Live.  If you're in Binghamton the game will be broadcast on My8 (channel 8 in the Greater Binghamton Area).  Tune in to My8 at 7 p.m. for live hockey action from the Arena.
Completely off topic to this post, as we left First Arena in Elmira, NY this morning Tyler Plante mentioned he has a new goalie helmet on the way.  He told us that the new helmet is even better than the old one!  We'll have pics as soon as it's done.