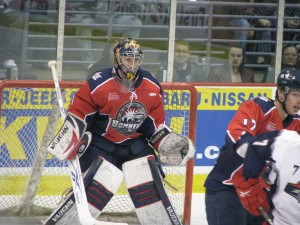 Goaltenders, Tyler Plante (Dayton Bombers) and David Shantz (Elmira Jackals) will be taking each other on tonight when their teams battle it out in Elmira.  Both goalies have played for the Amerks this season and last.  But, once Michael Brodeur was brought on board it was clear that neither of them would be needed in Rochester.  They were both sent to different teams in the ECHL.
We here at LetsGoAmerks decided to go see our old backup goalies take each other on for the title of "most relevant backup goalie."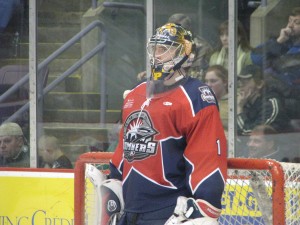 Tyler Plante was the first to be shipped out of Rochester when he had a poor showing in Rochester.  Winning none of his 6 starts and being pulled once.  He had  20 goals against in that time.  He was sent to Dayton and David Shantz was brought to Rochester to see what he could do.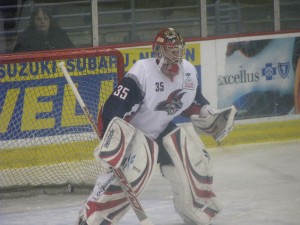 Shantz really didn't do much better.  He started in 5 games, was pulled once and lost 3 of the 4 games he stayed in.  The only point he earned was in an overtime loss.  Although, his goals against average was much better than Plante's. 
People in Elmira are happy to have Shantz as a goaltender.  He has played in nine games for the Jackals and is 4-3-0-1 for them.  The crowd enjoys having him there and would like to keep him.
 Plante is 5-8-1-0 with the Dayton Bombers in 14 games played.  He was pulled twice in his first three games with the team, but has ben playing well since then.
Our son has his money on his favorite goalie ever, Tyler Plante, for tonight.  He has asked about a million times when Tyler will be coming back to Rochester.  I will cheer for no one.  I don't like to pick between them.  It's like picking a favorite child.  You may have a favorite, but you don't say it out loud.
I look forward to the game tonight, and will be sure to make sure everyone knows exactly how well (not not well) both goaltenders do.
The game was good.  The coach for the Bombers said it was Tyler Plante's best game there so far now that he is healthy.  When he got there he was having back problems, then his knee was on the fritz.  Now that he is healthy he is playing much better and it showed tonight.
Plante made many very good saves and gave the Bombers the win 6-3.
Shantzy would have had a fighting chance if the defensemen in front of him tried sometimes.  The calls from the Jackal fans sounded the same as the ones in Rochester at the beginning of the season.
After the game, we got the chance to talk to Tyler for a while.  It was nice to see him again.  On the way back to our hotel, our son said, "I want Chris Beckford-Tseu to leave so Tyler can come back."
The decision for the game goes to Tyler.  He saved the team more than a few times.  Shantz just couldn't keep up.
We do miss you Tyler!