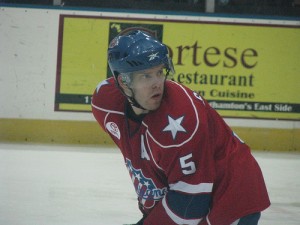 The Amerks followed up a loss against the Binghamton Senators with a come back 5-3 win over the Manchester Monarchs on Friday night on the road in Manchester.
At the end of the first period the Monarchs had a 2-1 lead along with a 18-4 shot advantage, both goals coming on the power play.  Sprukts had the Amerks only goal in the first period, assisted by Jason Garrison and Drew Larman.
The Monarchs struck early in the second period with a goal scored by Brad Richardson only 57 seconds into the period.  Later in the period Janis Sprukts scored his second of the game assisted by Jason Garrison and Michal Repik to close the gap to one goal.
The third period belonged to the Amerks with three goals scored.  Sprukts got the hat trick with a power play goal assisted by Garrison and David Brine.  Only 46 seconds later Shawn Matthias scored the game winning goal assisted by Mike Duco and Keaton Ellerby.
Kenndal McArdle finished the scoring with an empty net goal with assists going to Sprukts and Garrison.
Mike Brodeur finished the game saving 33 of 36 shots faced, majority of those came in the first period alone.
Garrison continues to lead the team in assists now at 19.  The four assists during the game also put him in ninth place amongst defensemen.
The four point (3+1) effort by Janis Sprukts puts him at the number one spot on the team with a total of 24 points.
The Amerks next game is away on Sunday night against the Providence Bruins, game time is at 4:05pm.
Injury Update: Neil Clark played in the game and did not break anything in his hand.  Mike Caruso hurt his leg blocking a shot in the game against Binghamton, he also did not break anything, but did not play in the game.  No update on Riley Emmerson at this time.