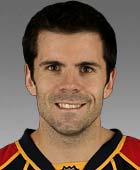 Well, Cory Murphy gets to stay in the NHL.  Much to many Amerks' fans' saddness, the Tampa Bay Lightning claimed Murphy off re-entry waivers.  Kevin O's blog said it best for me…so, I am going to quote him.  Check out his blog here: Kevin O's Blog
I can't, however, criticize the Panthers for being player friendly. This is the type of deal that makes players happy, that makes players respect management.

They didn't bury Murphy in the AHL, they gave him a chance to stay in the NHL and perhaps earn another contract for next season.

And since Murphy was never a guy targeted to play in Rochester, the Amerks really didn't lose him. Losing tough-guy winger Steve MacIntyre on waivers in training camp was a punch in the gut. He was to be a focal point in Rochester.

But in Murphy's case, you can't lose something that was never yours to begin with.