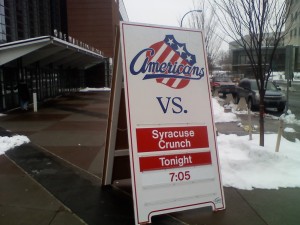 The Rochester Americans are back at home tonight for an odd Thursday night home game against thruway rivals Syracuse Crunch, game time is at 7:05pm.  The Amerks lost the first three games this season against the Crunch but have won the last two.  The last win was back on January 9th, final score was 3-1.
The team has won six of its last eight, including two road wins this past weekend against the Manchester Monarchs and Providence Bruins.  Looking at the past 15 games they are 10-4-0-1.  Something strange is happening here in Rochester, the team is creeping closer to a .500 record.
The Crunch are coming off of a 6-3 win over the Hamilton Bulldogs on Monday afternoon, they have won three of their past four.
Goaltender Mike Brodeur, who has started 17 of the last 19 games for Rochester, and will start again tonight, boasts a 12-4-1 record in 17 games between the pipes for the Amerks. His 2.07 goals-against average and .933 save percentage presently rank him third and second among AHL netminders, respectively. Further, his two shutouts tie him for fourth in the league.
The game will be broadcast live on SportsRadio 1280 WHTK, whtk.com and AHL Live.  The intra-state battle can also be heard live on the NHL Home Ice channel (XM 204, Sirius 208) on XM Radio and XM Canada.
Gameday Skate
Looks like Luke Beaverson and Randall Gelech are joining Drew Larman in the mustache club!
Stefan Meyer (knee), Jacob Micflikier (foot), and Riley Emmerson (ankle) are the only players not on the ice this morning.  Emmerson is being smart with his ankle and giving it a rest.
Update: Forgot about Mike Caruso, he's still out as well with a leg injury and did not skate.
With Emmerson possibly sitting this one out, maybe a rematch of the preseason fight between Clark and Mirasty?  I asked Clark coming off the ice and he said, "probably going to have to."  Let's hope he does better this time around.
Up until about a month ago Janis Sprukts never participated in game day skates but since then he has been part of every one, which could help to explain why he is coming off an eight-point weekend (4+4), and currently paces Rochester's offense with a team-high 12 goals and 28 points.
We've always spoke highly of the ethic the team has during practices, which can be attributed to Groulx and Cipolla not letting them slack off.  Nothing has changed regarding the hard work put in during practices, just appears as if it took a while for everything to "click" and get the wheels in motion.  Game day skates on the other hand seem to be a lot more relaxed and a sense of optimism.  I suppose the new goaltender also helped out a lot.
Keaton Ellerby has started a new post practice game.  One player stands on each side of the ice by the boards.  They are taking turns flipping the puck across the ice and the goal is to stop the puck before it touches the boards.  Currently Repik vs Matthias and Matthias is winning this match.  Prior Matthias also took out Ellerby at stopping the bouncing puck.
Many people have commented throghout the season about poor attendance in Blue Cross Arena this season, which most people understand is due to the teams poor start.  A Thursday night game could prove difficult, but assuming people want to watch a team on the rebound a night like this is when you want to be at the game.
We've thought it was a ghost town at times this season in Blue Cross Arena, but nothing has been bad at an attendance of about 184 people at the Lowell Devils vs Portland Pirates on Wednesday night in Lowell, MA.  The reported attendance was 1008 people.
The Amerks are home again on Friday night January 23rd against the Manitoba Moose, it will be the seventh of eight games between the two teams this season.  On Saturday they'll be on the road against the Albany River Rats prior to the All-Star break.  We'll be traveling to Albany as well as the All-Star game, keep us bookmarked for updates!