The Rochester Americans opened the 2009 training camp getting right to the point, playing hockey!  There was not any skating, passing, or shooting drills.  The players got on the ice, skated a few laps and went right into playing a scrimmage.  It feels like a it was only a few weeks ago that the Rochester Americans cleaned out their lockers and went home for the summer.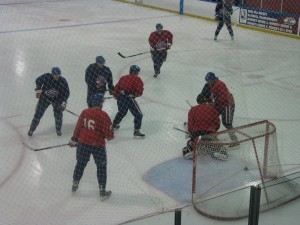 Who were half those players out on the ice?  I have no idea and neither did a lot of other people.  They don't have numbers or names on the practice jerseys and it's the first time a lot of them have met.
After a brutal preseason travel schedule with the Florida Panthers the more recognizable players that we'll be expecting the most from were given the morning off.  Those players were Graham Mink, Mike York, Kenndal McArdle, David Brine, Jamie Johnson, Jordan Henry, and Clay Wilson.  Rory Fitzpatrick was on the ice this morning prior to everyone else putting in some skating.  Assuming nothing crazy happens those players are all guaranteed roster spots for opening night.
Looking back at the start of 2008 training camp we were all hopeful that things were going to be different.  There was optimism in the air.  The teams advertising campaign to start the season was "A New Day for a Rochester Tradition."  We had a new sole affiliation.  We had some young players that we hoped were going to light up the ice.  Once the season started that all crumbled to the ground.
As everyone moves on from last season the biggest thing I've noticed when talking to players and coaches is the confidence level.  It's not a cocky confidence level either where everyone thinks they're better than they are.  It's the confidence level of having a better understanding of this level of hockey.  Understanding what they need to do every day to do their jobs.
A lot of the players have a full season of professional hockey completed.  The coaches are entering their second year together.  Everyone has learned a lot.  They'd rather not talk about last season anymore.
One player that does not want to remember anything about the 2008/2009 season is goaltender Chris Beckford-Tseu.  I talked to him for a minute and he easily admits last season was a failure.  He's looking forward, hoping for a fresh start and said that he worked hard all summer.
Prior to the scrimmage starting head coach Benoit Groulx had let the players know this was about playing hockey, not showing off any of their other "attributes."  He said they'll have plenty of opportunities during the three preseason game.
Who was he talking about?  The tough guys.  Mike Sgroi, Trevor Gillies, Jimmy Bonneau, James DeLory, and Tom Harrison.  Those guys are all fighting for a position or two that is available on the roster.
Benoit Groulx wants a fighter that can also play hockey.  Those guys all know they can fight.  The coaching staff and management know they can all fight.  This is their time to show they can be relied upon to play a regular shift as well.
Mike Sgroi was a standout on the ice today with a consistent hustle finding the puck, going to the net, and making plays.  You also can't miss the mutton chops on the side of his face so it's easy to find him in a crowd.  I have a story on Mike Sgroi that I'll try and get posted tonight.  Interesting player to talk to.
A few other notes:
There was a larger than usual turnout of people to watch camp compared to the past two seasons.
Keaton Ellerby is an excellent skater.  He has a future in the NHL and will be a valuable asset on defense this season.
Andrew Sweetland appears to have grown.  He looks bigger and seemed more confident in his skating.
Victor Oreskovich was invited to the Panthers training camp and also received an invite to the Amerks camp.  The former second round draft pick of the Colorado Avalanche retired after the 2007 season.  He's a former player of Panthers head coach Pete DeBoer.  He scored one goal in the scrimmage.  He's a player to keep an eye on.
Evgeny Dadonov looks like every other Russian player that's played hockey.  Looks great on the ice, gets a lot of compliments, now I can't wait to see him play in a game.  If anyone knows someone who speaks Russian let me know, would love to do an interview with him.
I'll have more later from Benoit Groulx and Mike Sgroi.  The Amerks are back on the ice at ESL on Friday morning at 10am.