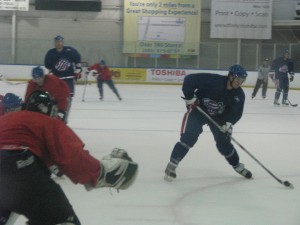 The Amerks just wrapped up day two of training camp with another scrimmage at ESL Centre.  The Red team won the game with a flurry of goals in the second half against a struggling Ryan Mior.
Chris Beckford-Tseu looked great in goal during the first half of the scrimmage.  The fans remember last year but to the coaches and players it's a new year and a new opportunity to win a job.  It's pretty much guaranteed that Alexander Salak will join the Amerks with Plante or Beckford-Tseu being sent to the ECHL.  The job of second goaltender at this point is Plante's to loes.
Jordan Henry could have a breakout season.  He progressed well last season and looks great on the ice.. skating, passing, and shooting.  If he can stay out of the penalty box he'll be a great defender.
Keaton Ellerby, Michael Caruso, and Peter Aston were given the day off today.  They deserve the rest after a crazy travel schedule with the Panthers.
Graham Mink was also given the day off today.
Mixed in with a bunch of camp invites it was easy to pick out Mike York and Jamie Johnson.
In a number of years we may look back at this season and talk about how Ted Nolan helped change the face of the franchise.  I had written last night about the story that News 10 aired about Nolan.  When talking with Trevor Gillies today he talked about how Nolan sold him on coming here on an invite.
Gillies had other opportunities but said that the moves made over the summer as well as talking with Nolan and the ownership influenced him to want to try here first.
The Amerks will have another skate tomorrow morning prior to travelling to Ohio tomorrow to play against the Lake Erie Monsters.  Hoping to have the lineups later today to post.