The key to success for teams in the American Hockey League is to have a veteran presence on a roster of players in their young 20's who have more or less moved away from home for the first time.
Players need a peer that they can talk to in the locker room, someone they can relate to.  It's easier to talk to and listen to a peer than to a coach who knows the game but may not know what you're going through.
The lack of a veteran presence is something that has been missing from the Amerks roster in recent years and it has showed in the league standings.
I asked goaltender Tyler Plante what's different this year and he said, "You can already feel a vet presence in the room, its a welcome change.   It's a little more serious of an attitude already and you can feel it."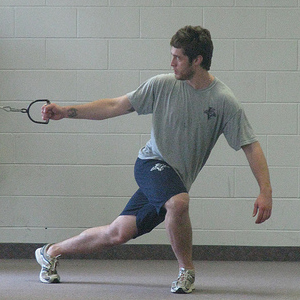 Tyler Plante spent his summer in his home town of Brandon, Manitoba working on continuing to be a better athlete.  He did not need to lose weight like others, he did not need to put on muscle, but he did work on hard running and more flexibility.  A bit boring?  Yea, let's move on.
What does a veteran presence really mean?  Plante explains, "They're vocal and the older guys in the locker room just have a way of calming you down without worries.  They've been there before.  It's nice to have an experienced player around."
Plante had a rocky 2008/2009 season.  He started the season in Rochester but after a rough start was sent down to the Dayton Bombers of the ECHL on November 10th.  He played in 19 games for the Bombers and with some improved play and poor play by Chris Beckford-Tseu he was called back up to the Amerks on February 3, 2009.
Plante played in two preseason games with the Florida Panthers and was perfect.  He only played in one period each game but did not let in any goals.
Will he be the Amerks #1 goalie?  Or even #2?
Benoit Groulx talked about that during his live chat on the D&C web site saying, "Is Plante ready to be a No. 1?  It has to be proven.  He has the talent to.  Is Beckford-Tseu reborn?  He was good today and yesterday.  Things are up in the air.  I will play the best goalie that is going to win.  They all start with a clean slate. We are going to play to win."
"Salak will be part of this team.  The other goalie with him has not been decided," Groulx said.
Alexander Salak is traveling with the Florida Panthers to Finland for the remainder of their preseason schedule and start of the regular season.
Either way, Plante says that his shoulder is back to 100% and that he's looking forward to getting back to playing.