When the name Mike Sgroi is brought up in the world of hockey fighters you'll get responses ranging from a great heavyweight fighter that can skate to someone who is a lunatic, a cancer in the locker room, and a whack job with a highly inflated ego.
Some of things may have been true years ago but not so anymore.
Sgroi is out to prove everyone wrong and earn a roster spot on a team that's in need of a heavyweight fighter.  The Amerks aren't in need of just a heavyweight, but a heavyweight that can also play hockey.  Playing hockey is the focus of the Amerks training camp and something Sgroi did a decent job of on the opening day of camp.
Amerks head coach Benoit Groulx wants more than just a heavyweight, "We want a guy that can not only be an enforcer on the ice but a guy that can bring toughness and a guy that can skate."
Mike understands what the team is looking for and said, "That's the one thing that separates me a little bit.  I've always liked to play.  I've always been a half decent hockey player as well as a fighter.  It's something that I concentrate on.  I've worked on my game.  I've tried to be able to stick handle and score some goals and help out a little offensively here and there and utilize my skills for the betterment of the team."
The Amerks will be the 20th team that Sgroi has played for in his professional career.  Based on the number of teams he has played for it'd be easy to assume that Sgroi has some ummm.. issues.
I asked why he's been with so many teams to which he replied, "some guys have a hard road, some guys have an easy road.  I was never drafted, nothing like that.  Ive always been grinding for that last spot doing what i can.  The last couple of years i've been in the East Coast League trying to prove i could play hockey."
Sgroi admits there may have been things going on in the past saying, "the first half of my career I was a little arrogant, thought i was indestructible on and off the ice."
That's something that was brought up in the conversation when Ted Nolan called Sgroi to talk about the chance to come to camp.  "He (Sgroi) told me he didn't grow up until he was 26 or 27," Nolan said. "I said that's good because I didn't grow up until I was 35."
The Amerks were not going to invite a guy to camp that would be a problem on and off the ice.  Nolan did his homework calling people that Sgroi has played for and played with.
Talking about maturing…
"I got a rude awakening when i didn't get another shot in the American League after the lockout year and i didnt have any options.  It was a really humbling experience and that really really matured me fast.  I love to play hockey.  The prospect of not being able to play in the American Hockey League was devastating to me, it's where i believe i belong.  I want to be in the American Hockey League with maybe an opportunity to get looked at by the NHL.  I dont want that to sound arrogant but i really believe this is where i belong."
He does a great job selling himself as someone that can be a valuable part of a hockey team.  "The last 3 or 4 years i've really been redicating myself to being a great team guy," Sgroi said.  "I'm loyal to whatever team gives me the opportunity and I put my heart soul and blood out for the team that gives me the chance."
Explaining his role on a team…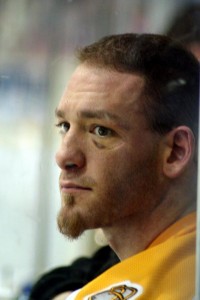 "In the East Coast League guys like me don't get into a lot of fights.  I'm a little bit more valuable down there as a player, as a power forward.  I'm pure fighter here (the AHL), someone that's not going to hurt the team when they're put out on the ice.  I understand my role, I've been playing the game a long time.  I understand exactly where i fit in on a hockey team.  I better win all my fights.  I better not lose a damn fight this year."
Fighting has no place during training camp for the Amerks.  The coaching staff made that very clear on day one.  If the Amerks were looking to make some extra ticket revenue they could have staged a heavyweight fight off the ice.  The Amerks have five guys that could play the role of fighter that Riley Emmerson had last season.  Trevor Gillies, Jimmy Bonneau, Tom Harrison, and James DeLory have joined Sgroi at training camp.
In asking about Gillies specifically Sgroi said, "We were maybe a little worried that we'd have to duke it out in the camp but they made it real clear to us that they want us to use our pugilistic skills out in the exhibition.  Obviously thats where the real proving ground is going to be as far as the fighting is concerned, in the exhibition."
What kind of training did you do over the summer?
"It's hard to train hockey fighting the best way because there's no real hockey fighting trainers.  I teach MMA, I teach Muay Thai, I teach striking off the ice.  Something i have a strong passion for is fighting and hitting people.  I did some serious serious off ice work this summer with my striking, with my straight right and left hands hooks that would translate into a hockey fight."
Do you train others, give guys tips?
"You know, i give a little bit of advice here and there but all the guys I seem to have taught are in the NHL or getting jobs over me.  Absolutely if I'm playing on the same team with a guy but until I'm part of a team I'm not giving tips to anybody."
The Albany Incident
If you do a search on YouTube for Mike Sgroi one of the first videos to show up is titled, "Sgroi Gone Mad."  Here you go, watch it for yourself.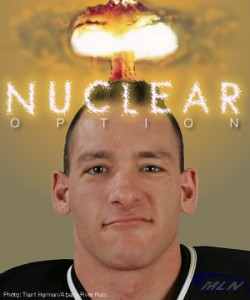 Mike explains further… "That's a longer story than you think.  People say 'oh Sgroi is an animal, he loses his temper, he's just so crazy and out of control.'  People don't understand that when i lose my temper and go do things like that those are deliberated decisions.  I sat and go you know what, this is the right time to make a serious point here and it was. There's a history behind that, a story that people don't know.  All people see is me jumping in the bench and going nuts thinking, 'oh that guys a loose canon, hes crazy, you have to watch out for people that don't know the entire story, just sticking there finger saying he's crazy, he's an animal."
"I'm very coachable," he said.  "I'm not a loose canon.  I make decisions to do stuff like that and make serious points.  Nobody in the New Jersey Devils organization was mad at me for doing that."
Mike went on to say, "I'm a normal guy, I like people, I'm just a really hard competitor.  I'm big on respect, real big on respect.  People like me and Gillies have been around the league ten/eleven years beating people up, putting in 30 fight seasons.  If your young and up and coming show us some damn respect until you win a fight against us or get into some wars against us.  If you get into a war with one of us guys or beat us or something like that then maybe you can open open your mouth a little bit, but until then you put in a 10 yr shift as a pro fighter and then you can talk some smack."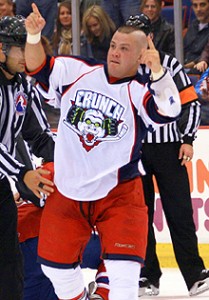 The Rochester Americans and Syracuse Crunch play two preseason games against each other in three days.  The past two seasons we've seen the Crunch beat up on the Amerks time after time.  With the heavyweight lineup expected during these games it'll be interesting to see what happens.
Sgroi and Mirasty are good buddies and have had a couple of really good fights together.  Mirasty could have the red light on fighting but Sgroi is thinking that he will.  He said that Mirasty understands that he is fighting for a job and needs every chance he can get to show what he's capable of.
Here's a clip of one of those really good fights they had together (even if it's poor quality):
It's anyone's guess if the Amerks will offer Sgroi or Trevor Gillies a contract.  The number of veteran spots available on an American Hockey League team is limited and that's something Sgroi could have to his advantage, he's not considered a veteran.  Trevor Gillies is.
We'll know by the end of the week.  Stay tuned!
Updated 9/28/2009: Sgroi was released from the Amerks camp.  Wherever he ends up he'll be a valuable asset to his team.