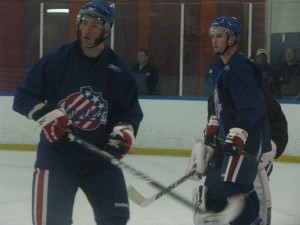 It's hockey night in Rochester Henrietta!  The Amerks play their first home game tonight at the ESL Centre in Henrietta to take on the Syracuse Crunch.  The two teams will play again against each other in Syracuse on Tuesday night.
These games have a little more meaning in terms of players looking to make the roster.  Syracuse is well known for being a team that likes to fight and the Amerks have a three guys that are willing.  Mike Sgroi, Trevor Gillies, and Jimmy Bonneau will be trying to prove in these games they deserve to earn a contract with the team.
Rory Fitzpatrick was skating with the team this morning but will not be playing.  He's healthy and ready to go but there's no need for him to play in a meaningless game.
The game might be meaningless but the players are not.  While watching practice I could overhear kids at the arena for tournaments talking about seeing "these guys in NHL 10."  One kid said, "I had to play against these guys when I was sent down to the Hershey Bears."
I have no idea where these kids were from but I imagine to them it was great seeing guys that have played in the NHL on the ice practicing.
Things are always changing, especially in the preseason, but here's some lines that were doing drills together.  Every line has some sort of interest.  The first line for some scoring all the way down to the fourth for some fights.
Chris Taylor, Graham Mink, Evgeny Dadonov
Mike York, Jamie Johnson, and ?
Kenndal McArdle, Brady Calla, David Brine
Mike Sgroi, Trevor Gillies, Jimmy Bonneau
Clay Wilson, Keaton Ellerby
Michael Caruso, Peter Aston
Jordan Henry, ?
Tyler Plante and Daryl Borden will be sharing duties in net.
There was a few more players out there but I have no idea who they were.
You can always keep track of @LetsGoAmerks on Twitter to get all the latest news, scores, and updates.  If you already use Twitter you can sign in and follow us or you can just bookmark the page and click it often.
You can view the site from your computer or even your mobile phone.  If you're on a mobile phone you can bookmark http://m.twitter.com/letsgoamerks and you'll see a scaled down version.