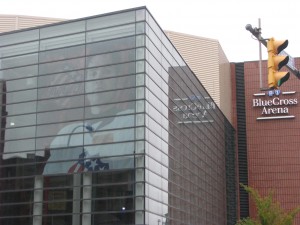 The giant windows at Blue Cross Arena were given a new look this week with the addition of a couple of huge pictures.  Rochester American Chris Taylor is on the Broad Street side of the building and the Rochester Knighthawks first round draft pick Sid Smith is on the Exchange Street side.
There's nothing on the building that indicates what sports teams play at the arena so this will give the building a great new look from the outside by showing off two players from a couple of the teams that use the building.
These will get some attention from those working downtown and any out of town people who may be visiting.
It's awesome to see the outside of the arena have the identity of two teams that use the building.  Up until this point there had been nothing on the outside of the building to give any indication of who used it.
The current ads are sponsored by the law firm Segar-Sciortino.
I assume on a day with nicer weather you'll be able to see these better than the pictures let on.
It's amazing the marketing department has not been able to (at least yet) convince Fuccillo to sponsor some more of the window space.