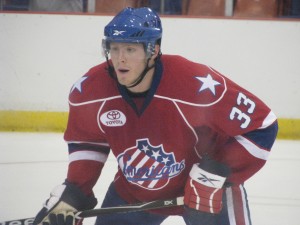 Here's my pics from the Amerks vs Crunch game on 9/29/2009 in Syracuse.
The Amerks won 4-2 (game recap)
I don't consider myself a professional photographer at all and chances are you may have a better camera than me.  After two seasons of taking thousands of pictures I'm finally getting around to uploading the decent ones.  Just about all of the pictures you see used on this site are my own.
You can view all of my pics at http://flickr.com/letsgoamerks, I've tried to start labelling a lot of them so if you're looking for a specific player you can do a search.
Lastly, if anyone out there uses a Canon PowerShot S5 IS and can offer me any tips I'll take them!  Here's the pics: