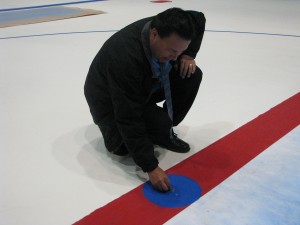 The crews at Blue Cross Arena spent this past Tuesday and Wednesday putting down the ice at Blue Cross Arena for the first time this season.
Last season Lewis Staats and Curt Styres had talked about starting some traditions of their own with the new venture in Rochester.  One of the ideas was to bury a coin at center ice.
That tradition is continuing and the nickel was placed at center ice on Tuesday afternoon prior to the start of the season.
Let's hope things work out better this season or anyone who is superstituous may want it removed.
Here's the rest of the story about the nickel from last October:
Embedded under an inch and a half of ice, you will find one of the rarest coins in all of North America, an Indian-head nickel, also known as the buffalo nickel.

The date on the 72-year-old collector's item reads 1936, and although the date may seem meaningless to many, it actually poses quite the opposite for the Amerks. Coincidentally, 1936 is the inaugural season of operation for the AHL, the very league the Amerks have been members of for the past 52 seasons, but it is also the very last year that type of coin was ever produced.

And with Rochester being a cornerstone franchise of the AHL, one which is widely known for its rich history and storied tradition, the coin was welcomed with open arms by new owner Curt Styres as the next piece of Amerks' history.
http://theahl.com/coin-bringing-change-of-luck-in-rochester-p133150