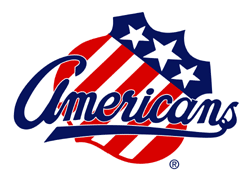 The Rochester Americans open their 54th season in the American Hockey League tonight against the Lake Erie Monsters at Blue Cross Arena.  The past is the past.  It's a clean slate.  It's a new season.  It's time for the actions of the dream team to finally pay off.
What is the dream team you ask?  It's Curt Styres, Ted Nolan, Jody Gage, and Kerry Atkinson.  Four individuals that have proven with actions over the summer that they want to win and bring back some pride to the City of Rochester.
Ted Nolan has talked all summer about how he loves to win.  Kerry Atkinson has talked about the Amerks being the best organization in any league that provides the best entertainment for fans.  Jody Gage has been busy making sure the roster is one that believes in Amerks pride and tradition.  Curt Styres opened his wallet and invested a lot of cash to make everything happen.
"We've lost our identity as a city, it's not just the Rochester Americans that lost their identity," Jody Gage said at a media luncheon this summer.  "How do we get the Amerks back to the headlines?"  That's a question that Gage said was brought up last season.
It's easy, win some games and you'll make better headlines than the turmoil that surrounded the team in recent years.  An easy way to try and forget the past couple of years is to remember the last time the Amerks won the Calder Cup in 1996.  The team will remember that year on opening night by wearing the same jerseys that were worn that season.
Apparently a video will also be played prior to the start of the game that features Jody Gage and Ted Nolan talking about the importance of being an Amerk.
An easy to to recognize the importance of being an Amerk is by only allowing Amerks gear to be worn in the building and around the locker room.  No more Panthers.  No more Sabres.  This is Rochester Americans hockey.
Rory Fitzpatrick is a Rochester native and understands the importance of everything.  He said, "I think it's getting that pride back, getting that Amerks feeling here instead of what it's been in the past whether it's been being a Sabre or being a Panther, everybody has their different goals but right now we're all the Amerks and all representing the City of Rochester.  We need to instill that pride, that feeling of being an Amerk, wanting to be an Amerk and wanting to be in Rochester."
Jack Birch (Director of Player Personal for the Florida Panthers) has even been sporting Amerks gear this preseason.  It's a great sign when an employee of another organization is showing the same level of support.
The front office has spent a lot of time putting together what they believe is a Calder Cup contender and tonight is the night they all hope it starts paying off.  The team looks great on paper.  The talk has been great but it's time for the actions of the players and coaches to back everything up.
"We feel we're a much better team than we were last year, everything is positive.  Even with guys still missing with the Panthers it's exciting to start the season thinking that we'll have a good one," Benoit Groulx said Friday morning after practice.
Rory Fitzpatrick talked about expectations saying, "The expectations should be higher.  We went out and signed a lot of great players.  The players we have back are older, more experienced.  With those expectations we have to work harder and meet them."
Groulx talked about the veterans saying, "Fitzpatrick, Taylor, York, Johnson, Wilson.. all those older guys will definitely help not only the young guys but the overall attitude that will help this team establish the work ethic we want and the way we want to play."
It's odd to think that one play this preseason has made the highlight reels more than any other play last season.  Benoit Groulx talked about Chris Taylor saying, "The play he made in Syracuse, the pass he made to York on the power play is something we did not see the entire year last year.  He's just a smart player."
Groulx puts everything in perspective saying, "Before winning the Calder Cup you have to make the playoffs.  Before you make the playoffs you have to put your system in place, have to have a good work ethic, have to have a good chemistry on the team.  Right now we're not talking about making the playoffs, not talking about anything else but establishing our work ethic, the way we want to play.  It's a day to day thing.  We have to focus what we can do every day and that's getting better."
With the excitement about opening night and seeing the new faces it's weird to think that the team will look different in a week.
The Amerks will be getting Jeff Taffe into the lineup once he returns from Finland.  Other players expected back are Michal Repik, Mike Duco, Jason Garrison, and goalie Alexander Salak.  Shawn Matthias seems to have been impressive enough with the Panthers that he's not likely to return.  That's also not including Rory Fitzpatrick and Mike Caruso who are not expected to play Saturday night (see below).
Tonights Lineup
Tyler Plante will be starting in goal.  Ever since he was called up last February he showed that he has improved and is ready to go.  It has to be easier on the goalies knowing the game is not entirely up to them like it was last season.  Chris Beckford-Tseu will be on the bench backing up.
Going off what I saw at practice on Friday the Amerks top line looks to include Chris Taylor, Evgeny Dadonov, and Graham Mink.  The second line of Mike York, Jamie Johnson, and Andrew Sweetland.  Third line of Brady Calla, David Brine, and Kenndal McArdle.  And finally a fourth line of James DeLory, Jimmy Bonneau, and Dan Collins.
If Victor Oreskovich signs a contract look for him to replace Dan Collins in that lineup.
On defense we'll see Clay Wilson, Keaton Ellerby, Jordan Henry, Matt Duffy, Jon Landry, and probably Peter Aston.  The Amerks are missing three key players on defense with Fitzpatrick, Caruso, and Garrison.  With those guys not in the lineup it gives Duffy, Landry, and Aston a chance to show they belong here.  Luke Beaverson is still with the team and could be a longshot to crack the lineup.
Injuries
Rory Fitzpatrick said he's healthy and ready to play, Benoit Groulx said he is not.  Rory is not expected to play this weekend but will return the second weekend of the season.
Mike Caruso will be out with a bruised foot/ankle.  The good news is that he did a great job blocking the shot from a Crunch player.  The even better news is that nothing is broken and he should return next weekend as well.
Promotions
The first 5,000 fans will get a magnetic schedule.
I'm excited for tonight, see you at the game!