The Rochester Americans have a lineup that is making the rest of the league turn heads and realize this Amerks team is nowhere near the same team they faced last season.  The addition of players like Chris Taylor, Graham Mink, Mike York, Jamie Johnson, and Jeff Taffe are an offensive threat against every team they'll face.
The Florida Panthers are currently talking with Victor Oreskovich about signing a contract, a player who could turn out to be a big surprise. I was going to wait until after I knew he was signed but it sounds like things are going well so hopefully I don't jinx the process.
My guess is that he's offered a two way NHL deal with the Florida Panthers. I have absolutely nothing to base that on except from what I've learned about the kid. The Panthers are still under the 50 player limit to NHL deals so there's a chance for him.
Updated 10/8/2009 – On October 8th the Panthers officially signed Oreskovich to a two way NHL contract, an amazing opportunity for a player that took two years off.
Oreskovich signed a two way NHL contract with the Florida Panthers
Update 11/01/2009 – After only five regular season games Oreskovich earned his first NHL call up, a pretty amazing task for a kid who took two years off after losing passion for the game.  In five games with the Amerks Oreskovich has tallied one goal, four assists, and a number of big hits.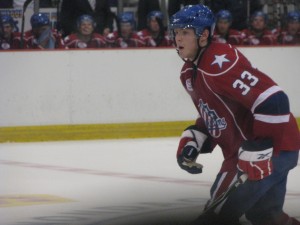 The native of Oakville Ontario was drafted 55th overall in the second round of the 2004 NHL Entry Draft by the Colorado Avalanche.  In the 2004 draft the Florida Panthers had drafted David Booth 53rd overall, two spots ahead of Oreskovich.  History has proven that draft order does not always mean anything (Mike Funk was drafted 43rd in 2004) but it puts into perspective where he was in that draft year.
Alexander Ovechkin and Evgeni Malkin were drafted one and two that year.
He was invited to the Florida Panthers training camp where he played well in a couple of games for them and impressed the coaches.
"He's a good skater, big body, brings a lot of energy.  We're very pleased with him," is what Benoit Groulx said about Oreskovich after the Amerks 4-2 preseason win over the Syracuse Crunch.
Victor started gaining the attention of professional scounts in 2002-03 when he played for the Milton Icehawks of the Ontario Provincial Junior Hockey League (OPJHL).  During that season he scored 28 goals with 47 assists for 75 points in just 49 games.  Following the 2002-03 season he received the B.J. Munro Award as the top NHL prospect.
The next season (2003/2004) he went on to play for the Green Bay Gamblers of the USHL where he played in 58 games scoring 11 goals with 26 assists.
Oreskovich attended Notre Dame in 2004 to earn a degree in finance as well as to play college hockey.  He played in 37 games his first season scoring one goal and getting two assists.  His second season he only played in nine games but had two goals and one assist.
Like a lot of kids in Canada he has loved hockey all of his life and things just weren't working out well at Notre Dame.  "A lot of things at Notre Dame weren't going that great.  I was a young guy and a little impatient, college hockey is tough for younger players," he said.
Victor only stayed at Notre Dame for two years saying, "I jumped to juniors to jump start my pro career and it worked out."
He played two seasons with the Kitchener Rangers, the second season being the most productive.  He scored 28 goals, had 32 assists, and played in 62 games during the 2006/2007 season.  He also played in five playoff games that season and registered two goals.
After that season he was looking to make the jump to the next level.  "I signed with Colorado after my last year in Kitchener but at that time i had a couple injuries and lost my passion along the way.  I went to my second training camp with Colorado and retired that fall (2007)."
On September 17, 2007 he was assigned to the Lake Erie Monsters but did not report and was suspended by the Avalanche at which point he retired from hockey.
After he retired he went back to Notre Dame to finish school and graduated with a degree in finance.  While Victor was at school he says, "That fire came back.  I just started really missing the game and I really wanted to try and make a comeback."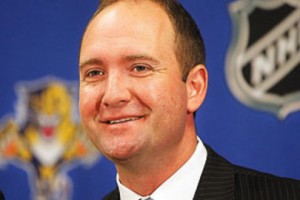 With a renewed passion to play hockey again Victor had the perfect opportunity to try and get back into the game through Pete DeBoer, his coach when he played for the Kitchener Rangers and current coach of the Florida Panthers.
Victor understands how fortunate he is to get a second chance saying, "Pete was awesome.  Just to give me the opportunity to come back meant a lot to me.  I'm really fortunate to get another chance, a lot of guys wouldn't be that lucky."
From a young players perspective, I asked him what he thought of playing for someone who had previously coached in the juniors and is now coaching in the NHL.  He said, "I think Pete is a great coach, he really knows what hes doing and more than anything he's a great motivator.  I really loved playing for Pete.  Sometimes pro coaches might not understand the younger guys coming into pro whereas Pete has that perspective of what younger guys can and cannot handle and just how you have to handle certain players differently."
Oreskovich assisted on a short handed goal against the Syracuse Crunch on Tuesday night with a minute left in the second period.  Watching him play you would never think that he had taken two years off from playing professional hockey.
Victor may have lost the passion to play hockey a couple of years ago but he's certainly fired up to play again and it's shown on the ice.  What if a career playing hockey doesn't work out?  He's already graduated college and is armed with a finance degree from Notre Dame.  That's not likely though, I expect he won't spend too much time with the Amerks before getting some NHL playing time.