The regular season is less than a week old and players are starting to collect some frequent flyer miles.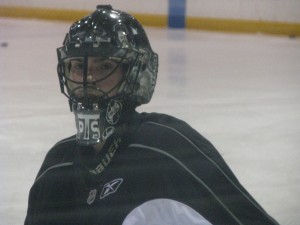 Alexander Salak was called back up to the Florida Panthers after he had already landed in Rochester.  I should have known Tuesday morning that something was up when he was not in the locker room but Duco, Repik, and Garrison were.
Current Panthers backup goalie Scott Clemmensen had to attend to some family business this week.  The Panthers next game is on Friday against Carolina and with the uncertainty of when Clemmensen will return they needed a second goalie.
The Amerks next game is Friday night as well against the Lake Erie Monsters and even if Salak stayed here or does return I think Tyler Plante will be getting the start in net.
Defenseman Matt Duffy was handed a plane ticket as well for his assignment to the Florida Everblades.  Duffy had a strong few games at the end of last season when he joined the Amerks.  Duffy has a promising career ahead of him, he was just an odd man out with the current roster.
The Amerks top six defenseman will be Rory Fitzpatrick, Clay Wilson, Jason Garrison, Keaton Ellerby, Mike Caruso, and Jordan Henry.  Peter Aston will likely stay with the team as the seventh defenseman.
Once Alexander Salak does get sent to Rochester and is staying here we'll likely see Chris Beckford-Tseu sent to the Everblades as well.  The Blades are expecting to get a goalie from the Panthers organization and CBT is likely the one being sent down.