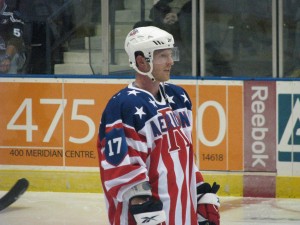 The Florida Panthers reassigned forward Dan Collins to the Johnstown Chiefs of the ECHL away from the Amerks on Wednesday afternoon.
This move does not come as a surprise at all.
Dan Collins, from Syracuse NY was selected by Florida Panthers in round 3 (#90 overall) in the 2005 NHL Entry Draft.  Collins put up some good numbers when he played in the Ontario Hockey League as well as in the ECHL for the Florida Everblades but was not able to produce points while playing in the American Hockey League.
He often seemed slow, out of shape, and out played every time he stepped onto the ice.
The 2009/2010 season is the third and final year of his entry level contract, hopefully the Panthers release him at the end of the season to free up a roster spot.
Here's his career stats:
As you may be able to notice I'm not a fan of Dan Collins the hockey player.  Nothing personal against him, but he's not effective on the ice and very rarely has been.