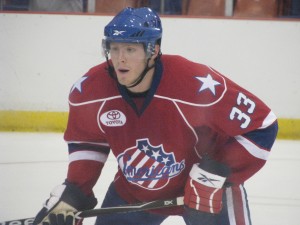 The Florida Panthers announced on Thursday that they have agreed to terms with RW Victor Oreskovich on a two way contract.  Oreskovich has been in Rochester waiting for the contract to be finalized and is now waiting for visa issues to be cleared up so that he can play.
Oreskovich had retired from hockey in 2007 after he lost his passion for hockey due to a couple of injuries he had suffered.  After he graduated from Notre Dame he regained his passion for hockey and was looking for a chance to get back into the game.
His answer to getting back into the game?  Geting in touch with his former coach and current Panthers coach Pete DeBoer.  Oreskovich arrived at Panthers camp and proved he could play.  He obviously played well for the Panthers to offer him a two way contract.
I wrote an article last week about Oreskovich and his history, check it out:
Victor Oreskovich Fortunate to get a Second Chance
https://lga585.com/2009/10/02/victor-oreskovich-fortunate-to-get-a-second-chance/