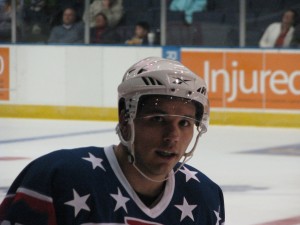 The Amerks announced on Wednesday that they released forward Jimmy Bonneau from his PTO contract after only one regular season game.  It's probably safe to assume that management was unhappy with his performance during the home opener against the Lake Erie Monsters.
There were a number of players who did not perform well during that game but Bonneau must not have been the "enforcer" the team was looking for.
The surprising part about Bonneau being released is that the team had started training camp with three experienced enforcers and now they're down to none.
I could be the jinx in this situation.  I wrote an article about Mike Sgroi, he was released.  Last week I was about to post one about Trevor Gillies and then he signed with Bridgeport.  This week I was going to post something about Bonneau and now he's gone.
Ted Nolan had talked over the summer about creating a "safe working environment," but as of right now it seems far from it.  I put in a call to Ted Nolan to get more information about why and what they're looking for but as of writing this have not received a call back.  I'm sure he's a busy person and I'm sure we'll talk this week.
The Amerks are trying to create an identity in the City of Rochester again, something they used to have but have lost in recent years.  Based on the comments by Nolan over the summer many of us had assumed that identity would be an offensive scoring team that also has some toughness and grit to the game.
Should anyone lose any sleep over this?  Absolutely not.
Will this hurt the team in any way?  It shouldn't.
The team is working to win fans back into the building and hopes to do so by winning hockey games.  An exciting environment where a team wins games is what people want to see.  To win hockey games you need a strong offense to score goals, something they have on paper.  Right now they're working on building team chemistry to prove they have what it takes on the ice.
To win hockey games you also want someone to protect your assets on the ice.  The management and coaching staff have always talked about wanting a player that can play that role as well as play hockey.  Someone they could rely on for a regular shift if needed.  Someone that could contribute and be a not be a liability to the team by just sitting on the bench.
Trevor Gillies could have been that guy but he decided to sign a contract with the Bridgeport Sound Tigers instead.  Gillies would have been the 7th veteran on the team so I can understand his decision to go somewhere that he'd be guaranteed more playing time.
I'm more than confident this team will still be successful but it's still missing that much needed element to not only protect the team but also entertaining the fans.  It's now up to management to try and find that player.
That player was obviously not Jimmy Bonneau or Mike Sgroi.
The bigger issue is that a roster can only have so many players and right now the Amerks are pushing the limits.
Roster spots will be guaranteed for Chris Taylor, Graham Mink, Evgeny Dadonov, Kenndal McArdle, Mike York, Jeff Taffe, Jamie Johnson, David Brine, Michal Repik, and Mike Duco.  That only leaves two roster spots available (assuming no injuries).  Those two spots right now belong to Andrew Sweetland and Brady Calla.
James DeLory is still with the team as well but we have not seen much from him.  He played in the Amerks first preseason game against the Lake Erie Monsters but since then he's only taken part in practices.
In a couple of weeks the Amerks will have three games in four nights, one against Binghamton and two against Syracuse.  They're going to have to figure something out by then.
At this time it'll be up to Mike Duco to keep Kevin Harvey under control and not allow him to get under our teams skin.  It'll also be up to Duco to get inside the head of Harvey and Mirasty to try and get them to take penalties and allow the Amerks to take advantage of a power play.
Again, the team has only played one game and things are not even close to being as bad as they were last season.  There's no reason to think this team will not be successful.  Right now I'll assume they're running a tight ship and making sure to have a roster that is full of chemistry.