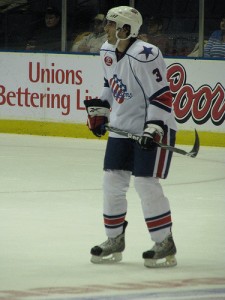 Jason Garrison was reassigned to the Rochester Americans today.  The Florida Panthers had called him up to fill in for Bryan Allen in Saturdays Panthers game against the New Jersey Devils.
Garrison had 12:19 in ice time during Saturday nights Panthers vs Devils game.  The Devils won 3-2.
The Amerks defense missed Garrison on Saturday night in their 6-1 loss in Albany.  I doubt Garrison would have been the difference for the Amerks having a different outcome but he was missed.
According to Steve Gorten we should expect to see Garrison called up often this season:
He was called up Saturday so the Panthers could give Bryan Allen, who's coming off major knee surgery, the night off with the team playing back to back games. Coach Pete DeBoer has said the team will be cautious not to put too much on Allen's knee, especially early in the season, and that Garrison would be called up regularly to help out.

The team has two more sets of back to back games this month — the 23rd and 24th at Pittsburgh and Philly and the 30th and 31st at Dallas and St. Louis — and will play five games in nine nights spanning those back-to-backs. So we might see Garrison again soon.
The Amerks are back at home on Monday night to play the Syracuse Crunch.  A game day post will be published in the morning.