Tonights game is simple, the Amerks need to win.  That's it.  No other outcome will be acceptable.
There's been talks about the team not having had a full week of practice together.  The fact that Taffe, Repik, and Duco were late to joining the team.  That may have been the case for some sloppy play even though they won on Friday night, but there's no excuses anymore.  This team was built to win.  Built to score some goals.  They need to find a way to do those things.
Unfortunately what we've seen is a team that has been slow and afraid to play physical at times.  The only players that have played a consistent physical game have been Graham Mink, Kenndal McArdle, and Jordan Henry.
The Amerks have one win, one loss, and one overtime loss.  They're better than last season already but shouldn't we be expecting more?
I'll remind myself now that it's only going to be the 4th game of the season… the company line is that it takes time for a team to find it's identity and build chemistry.  My take on it is that these guys are not rookies, they should be able to adjust.
The game tonight against the physical and quick Syracuse Crunch is going to be an interesting one.  Going into a game against Syracuse we often assume it'll be a physical game filled with a fight or two.. not sure who'll fill that role tonight.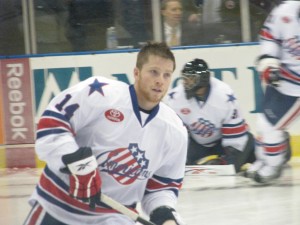 Mike Duco will need to step up his game and keep agitator Kevin Harvey under control.
The Crunch will be riding the momentum of their 6-2 sold out home opening win against the Adirondack Phantoms on Saturday night.
It's an odd Monday night game that starts at 7:05pm at Blue Cross Arena.  It'll be a miracle if attendance is higher than 1,500.  I'm hoping for the best and hate to be critical, but who scheduled a Monday night game thinking it'd be a good idea?
The Bridgeport Sound Tigers had the right idea with a 1:00pm afternoon game since kids have off from school.
I may not sound too optimistic here but when I leave work Monday evening and head down to the arena I'll be hoping for the best.
A few other tidbits:
** Alexander Salak will be making his first start as a Rochester American in net.  He replaced Tyler Plante in the second period on Saturday against the Albany River Rats.
** The team has one roster spot available that will go to either Andrew Sweetland or Luke Beaverson.  If I had to pick I'd go with Sweetland.  Not a lot to choose from.
** Jason Garrison returned from the Panthers.  Peter Aston will be sitting out.
** No known injuries.