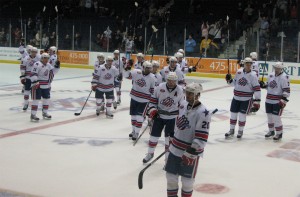 Dear Rochester, This is OUR city and the Rochester Americans are OUR team.  The local media has been trying to tell you that the success of the Rochester Americans depends on the Buffalo Sabres, I'm here to tell you to stop listening to them.
Curt Styres believes in the City of Rochester.  Styres believes in these teams.  Curt Styres spent about $500,000 on player salaries for this season, last year he probably lost millions.  If he didn't care about the Knighthawks why would HE pay for bus loads of fans to go to a playoff game in New York City?
This team is full of quality veterans and prospects.  This team is predicted by every media outlet and fan to make the playoffs with a real chance of going beyond the first round.  This team has an exciting duo of goaltenders that should be great throughout the season.
This is the Rochester Americans playing their 54th season in the American Hockey League.  This team is different this year.  This is OUR city.  This is OUR team.  We are our own city, we're not the armpit of Buffalo.
The Amerks play at home tonight Friday October 16th against the Toronto Marlies at 7:05pm, come on down and check it out for yourself.
The Amerks should have a campaign running with the phrase in the subject, not "We drop more than just the puck."
I've written this with some emotion and aggravation at the local media, read through and I believe it makes sense and talks about the bigger picture.
The point is that the Rochester Americans are OUR team in the City of Rochester, not a team that's dependent on another team down the thruway.
The Democrat and Chronicle is running a poll on their web site today asking why YOU think attendance has been low at Amerks games.  Chances are everyone will say it's because the Buffalo Sabres are not affiliated with the Rochester Americans.  Why will everyone say that?  Because that's what the local media has been telling everyone for the past two years. It's also because the Buffalo Sabres bandwagon is still full from their two great seasons.
I don't know if the local media is angry that the Amerks have not spent enough money advertising with them, or maybe they don't get media credentials to Sabres games as easily anymore or what, but no one in the media is buying the story from the Amerks about building up the teams identity as its own.
If something is in the news long enough people start to believe it.  Has anyone really bothered to take time to bring up other reasons that the numbers could be down?  Of course not, they're journalists and rely on ratings to they know what topics to bring up.
One just has to look at politics over recent years, whether its CNN, Fox News, or MSNBC they all report things and the more they report them the more that people think things are true.
There are a number of reasons attendance is down, could the affiliation be a part of the problem?  Of course it could be, but are we to believe that this would cause 4,000+ people to stay away from games?  I highly doubt it.
Here's a few reasons for the drop in attendance followed by more of an explanation: No team identity, a bad product, a boring product, a lousy economy, the NHL lockout, the NHL having a great product, bad press by the local media, Amerks office not doing enough to combat the bad press.
The team has had no identity in recent years.  There has not really been a player that has "stuck out" and made headlines.  The best player of the past few seasons was Craig Anderson, a Florida Panther prospect at the time.  Certainly not someone that gave the team an identity though.
The newest player to join the Amerks is goaltender Alexander Salak.  He played his first game last Monday night and made a ton of superb saves.  Why doesn't the team have a highlight video up on the web site?  That should have been online first thing Tuesday morning.  That is something that could have people saying, "we should check this dude out, plays like Hasek did!"
During the 2007/2008 season the Sabres were affiliated with the Amerks and attendance still stunk.  The team was horrible so why would fans want to go to the games?  The team was lousy and not at all entertaining to watch.
I'll go as far as saying that the Buffalo Sabres and the NHL lockout ruined the Rochester Americans.
During the lockout season the Amerks had a great team.  There was no other hockey on so the American Hockey League was the place to be.  The Amerks made the playoffs and lost in the second round.  Things were great and exciting!
And then the lockout ended.  The Sabres were a great team.  The NHL was exciting to watch.  The Sabres made it to the Conference Finals two years in a row.  Everyone jumped aboard the Sabres bandwagon.
That's when the Rochester Americans really lost their identity of being the Rochester Americans.  People would say they were going to an Amerks game "to see the Sabres guys play."
The AHL games were slow compared to the "new NHL."  People have said that the quality of play has been decreasing for years in the AHL making it a boring product.  That's something that has turned a lot of old timers away and something that has caused the average hockey fan to not have any interest in, at least compared to the new faster NHL.
Let's not forget the economy taking a real dump over the past two years.  A bad economy plus a bad product on the ice and fans are going to make wise decisions.  Who really wants to spend money to see a losing team?
The negative press that surrounded this team with Steve Donner during the 2007/2008 season helped turn off fans from the team completely.  Individual fans and local businesses were disgusted with the team and moved on.  The team has been meeting with local businesses trying to build back that trust they had but it's taking time.
At the same time that Amerks have not really emerged with 21st century technology to get out there and try to attract new fans.  They have one way communication with fans on social networking sites.  They have a web site with a lot of pages that don't work and a site that's missing content.
How come I have more videos on my YouTube account than they do on theirs?
They've also had a lot of bad press come out without following up on their own with updates.
Examples: Over the summer people thought the Moose was going to be dropped as a Mascot, I even wrote a story about it.  He has not.  He's still a full time Amerk.  Did anyone reply to any of my requests saying this story was false one way or another?  Nope, so I published the story.
Waaaaaaay back in early May when the Democrat and Chronicle reported that Jody Gage was being removed as General Manager the store came across as him being fired by the team.  Was that the real intention?  Maybe.  But as it turns out it was just a title change.  Did the Amerks have any press releases about the story?  Nope.
There's a lot of little things that have been building for a few years now.  To say it's just because of the Buffalo Sabres is complete hogwash.  There's no way.
Here's some examples of things that local reporters have been saying which has not helped one bit.  This could get lengthy, please continue to read!!
Kevin Oklobzija rekindled the debate on Wednesday with his blog post stating, "But the No. 1 reason lots of people haven't been watching Amerk hockey: The Buffalo Sabres are gone."
Chuck Wade from 13WHAM took a moment to post this on Twitter on Tuesday evening, "Announcers on VS. talking about how #sabres do a great job bringing players up through the AHL. Too bad the #amerks aren't a part of that."
Did he tweet anything on Monday night about the great Amerks win over the Syracuse Crunch?  Nope.
Former Democrat and Chronicle sports writer recently wrote this on his blog, "If professional hockey is going to survive in Rochester, Amerks ownership is going to need to find a way to mend the fences with Sabres owner Tom Golisano and renew the working relationship with Buffalo's NHL team."
Back in July he also wrote this, "I'm still concerned about Rochester's affiliation with the Florida Panthers. The big club is a mess, and that doesn't bode well for putting a competitive team on the ice at the Blue Cross Arena."
Has he written anything since to mention how great the roster is right now?  Did he write anything about the quality veterans signed?  Graham Mink?  Mike York?  Jeff Taffe?  Chris Taylor?  Up and coming goaltender Alexander Salak?  Of course not.  He's written nothing.
Bob Matthews uses his weekly radio show and has recently gone off on the Amerks as well telling people it's because of the affiliation.  I'm sure his partner Craig Schaller helps fuel that debate along.
Does Matthews mention other things as well?  Yes he does but for the most part the biggest talking point is the Sabres and that sticks out more than anything else.
Schaller is probably pissed that he had his post game show taken away from him.  Last season he did nothing but blast the team saying the reason they were so bad was because the Sabres were gone.  Now that the team is doing a great job he'd use his soap box to say attendance sucks because of the Sabres.
What have these guys written and talked about?  The Buffalo Bills.  The Buffalo Bills are an absolute mess right now.  They say that they cover the Buffalo Bills because surveys show it's what people want to hear about.  Well, if you don't report on anything else you won't know what else is happening out there.
Rochester, this is OUR city.  Why do we need to rely on another city to give us an identity?
The low attendance numbers are NOT anything new.  The numbers on paper might look great but everyone knows that Steve Donner fluffed attendance numbers quite a bit over the last few years of his ownership.  Whether it was with handing out free tickets to people or just printing tickets and counting that as the final attendance.
Here's an example from a game from March 26, 2008 where the reported attendance was 4,267 people.  This number is HIGHER than the ACTUAL attendance at the Amerks home opener on October 3rd.  I think seeing is believing: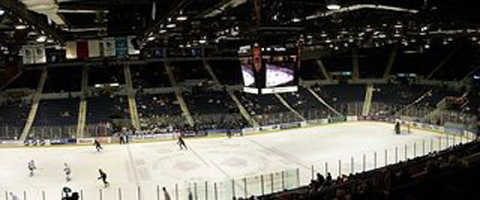 How is that over 4,000 people?
There has been a lot of things that have influenced the drop in attendance, it's not just the Buffalo Sabres.  People were staying away even when they were affiliated.
When a business has a rough couple of years they need to build back the trust of their customers.  That's what the front office is trying to do right now.  They believe that a winning team playing exciting hockey is the easiest way to build back the trust of people in Rochester.
Some damage was done by Steve Donner and they're still trying to repair that damage.
Steve Donner may have screwed up in the final years of his ownership with the Amerks and other sports teams but one great trait he had as a person was that he cared.  Maybe he wasn't the best in the end, but he cared.  He believed in this team.  He believed in the City of Rochester.  These teams were his life.
When Steve Donner crashed and burned as an owner he did everything he could to make sure these teams went to someone else that cared.  He had the opportunity to sell the teams, make some money, and be done with them.  He did not do that.  He found Curt Styres and sold him the team.
To repeat what I said at the beginning:
Curt Styres believes in the City of Rochester.  Styres believes in these teams.  If he didn't care why would he spend about $500,000 on player salaries after he probably lost millions the season before?  If he didn't care about the Knighthawks why would HE pay for bus loads of fans to go to a playoff game in New York City?
This is OUR city and this is OUR team!
This points to a much bigger problem for Rochester, it has no identity.  Well, I guess our identity is Wegmans and Garbage Plates.  It should go further than that.  It should be about one of the oldest hockey franchises in the world with the Rochester Americans.  How about the Rochester Red Wings?  The Knighthawks?  The local colleges, RIT and Uof R.
What Rochester needs is something like the Talkin' Proud campaign that Buffalo had in the 70's.
During the 1970s, the Nickel City lost much of its shine. High unemployment, a miserable football team and poorly planned downtown urban renewal projects had Buffalo in the doldrums. To combat the negativity, advertising executive Alden Schutte produced the Talkin' Proud campaign. Anyone who grew up in Buffalo during that time can remember the chorus of singers dancing through the streets singing loudly, "Buffalo's got a spirit, talkin' proud, talkin' proud!"
My day job involves talking to people all over the country, one of the things people ask about is, "What happened to Kodak?"  That was Rochesters identity for years and since the downsizing of Kodak the city has not had a real identity.
I know Rochester isn't what it used to be, but we need to move on.  Imagine a big campaign that involved the Rochester sports teams, Wegmans, Xerox, Paychex, and business groups from the East End, Corn Hill, the South Wedge, and more…
Make people proud of the City of Rochester and not bummed because Mid Town closed and Ren Square has failed.  Stop talking about what sports teams in another city are doing and start enjoying the quality we have right here in our own city.
I just hope all of that made sense and that I havn't pissed off local sports reporters.  But, even if I did I shouldn't really care.  The worst that can happen is something like this in a back alley between myself the other reporters:
See you at the game tonight!  I'll be curious to check back on Friday and see what kind of response this gets.