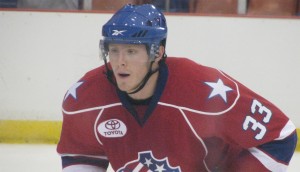 The Florida Panthers signed Victor Oreskovich to a contract on October 9th and he's finally been cleared to play.  He has not practiced with the team since the end of the preseason so it will be interesting to see if he plays on Friday night.
Could he really be any worst than Andrew Sweetland or Brady Calla right now?  Those two have not been bad, but they have not stuck out in any way.
The hold up was getting his work visa approved by homeland security.  Apparently they aren't in a rush to get things like this taken care of for new players at the beginning of the season.
If a player is traded from one team to another late in the season a rush is usually put on these things.  Someone should think of calling Chuck Schumer next time to get these things taken care of quickly.
If you want to know more about Oreskovich read the story I wrote about him, "Victor Oreskovich Fortunated for a Second Chance."