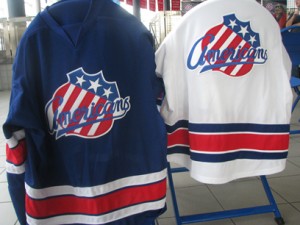 I read this about a month ago and it means more now than ever.  It's easy to just write the word jersey when talking about a teams uniform but it's a lot more than that, it's a sweater.
This years Rochester Americans team is playing for that sweater, they're playing for the logo, they're playing for this city.  They aren't playing for anyone else.  They aren't playing for the team that originally drafted them.  They're playing for what it means to be a Rochester American.
I originally found this article on Kuklas Korner, take a few minutes to read…
from Don Barrie at the Peterborough Examiner,
The Petes unveiled their new hockey sweaters last Thursday. The new design and material are part of a move the OHL and the CHA are taking to tap into the endorsement money for sweater exclusivity as their NHL counterparts.

Unfortunately many of the reports and the Petes' actual press release referred to the new hockey apparel as a jersey, not the sweater that it is.

Here in Canada there are three accepted definitions for "jersey" according to my Funk and Wagnall Dictionary.

Jersey is a breed of a top milk-producing cow that looks like a Guernsey cow but for the black tip on her tail; it's a type of wool and "a tightly fitting elastic jacket for women."

There are also two geographic "Jerseys;" an island in the English Channel where the above mention cow hails from and a state in the U. S. , whose only purpose many claim is to hold up one end of the bridges and tunnels going into Manhattan.
Don Barrie is a retired schoolteacher, former scout for the NHL's Buffalo Sabres and a member of the Canadian Lacrosse Hall of Fame and the Peterborough and District Sports Hall of Fame.