Starting on Wednesday night we'll start to get an idea of what this years Rochester Americans team is really made of when they start a crazy week of four games in five nights.  They're home on Wednesday versus the Binghamton Senators, away at Albany on Friday, Syracuse on Saturday, and return home on Sunday to play the Crunch again.
The team is on a three game winning streak and the team chemistry appears to be building every game.
In two previous back to back home and away games the team has struggled out of the locker room getting started.  The first road game in Albany was a mess, they lost 6-1.. but it was only the third game of the season.  This past Saturday was a different story.  Too many penalties in the first period allowed the Marlies to take an early 3-0 lead in the first.  The Amerks pulled together and came back to win the game 4-3 in OT thanks to a short handed goal by David Brine.
"We may have taken them lightly after the game on Friday night.  The win shows our pride and depth in the locker room knowing the game is not over," Benoit Groulx said after practice.
Getting back to the present..
Bill Pucko (Bylinesports.com) posted, "It is time to stop making excuses for the Rochester hockey fan.  The Amerks along with the Hershey Bears are the cornerstones the American Hockey League is built on.  New ownership has invested in our team, invested in us.  We need to start acting like we deserve that."
Finally someone in the local media gets it!!!  Great job Bill Pucko, hopefully others will start taking notice as well.
Practice…..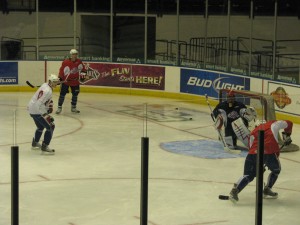 Due to changes in my work schedule (unfortunately writing about the Amerks is not my real job) I have not been able to make it to many practices like the past two seasons.. but it's definitely a different atmosphere.
It was easy to say over the past two seasons that the team had good practices.  Every team should have good practices.  The difference seems to be that players are finishing drills.  This may have been the first practice I've ever seen where Benoit did not have to stop and raise his voice.
When I had to leave many of the players had already been on the ice for an hour and 45 minutes.
** We've seen what these players are capable of, Victor Oreskovich will get his chance on Wednesday night in his first game in over two years.  Oreskovich skates hard and skates fast.  In case you missed it, check out my previous story on Oreskovich (Fortunate to Get a Second Chance)
** Kenndal McArdle just schooled Peter Aston.  Went hard at him, side stepped, and was able to put the puck past Plante.. the move got a nice round of cheers and sticks banging against the boards by his teammates.
** Mike Duco (banged up shoulder) and Michal Repik (sick) had the morning off.
** Tyler Plante got off to a rough start on Saturday in Toronto but rebounded nicely in the second and third periods finishing the game with 40 saves.  Benoit Groulx said that there was one poor goal he let in but as the game went on he made a number of excellent saves that kept them in the game.
** No decisions have been made about who starts on Wednesday.  I'm guessing Salak.
** The only forwards still looking for their first point of the season are Shawn Matthias, Mike Duco, and Evgeny Dadonov.
** Dadonov is fifth on the team with 13 shots.  He'll eventually find the net.. he's only played six regular season games in North America so a learning period is acceptable.
** Matthias has only played in two games and is still getting to know his teammates.  He looks much improved over last season.  He's skating faster and hitting opponents.
** Groulx said that he has not made a decision yet if Bonneau is going to play on Wednesday.  I made a sophmore mistake first asking Groulx "what role will Bonneau play in the game?"  Benoit laughed and asked me if I wanted to think about the question again.  The question was supposed to come out of my mouth asking, "Is Bonneau playing on Wednesday?"
** Groulx said that facing Mike Brodeur is not an issue on Wednesday, that's behind them.  This is a different team now.  I'll give Brodeur a nice welcome, he deserves it.  We have to wonder now if he regrets getting out of town.
Amerks vs Binghamton Senators on Wednesday night, 7:05pm Blue Cross Arena!