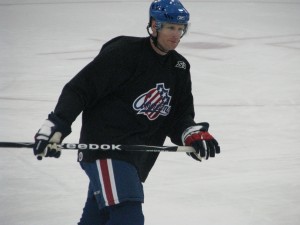 It appears as if Rory Fitzpatrick could be missing some time.  He left the bench with a few minutes left in the first period and did not return.  It appeared to be a groin injury and could be a relapse with his sports hernia.  Fitzpatrick will be talking on Thursday to the doctor who performed the surgery.
Jordan Henry left the bench as well with about seven minutes left in the third period holding his knee but came back two minutes later.  He said, "just the bumps and bruises part of the game," he said.
Mike Duco missed the game with an apparent banged up shoulder after the Toronto game on Saturday.  He apparently wanted to play tonight but was scratched.  Duco has been pretty invisible in the first five games he has played in, could be a wakeup call for him to play or be scratched.
If Fitzpatrick is expected to miss a number of games I hope that someone else will be signed to help out the defense.  The defense has had some good moments but also some bad.  Moving everyone up and putting Peter Aston or Luke Beaverson on as a sixth defensemen is not the answer.