The Amerks defeated the Binghamton Senators on Wednesday night to extend their winning streak to four games.  The last time the Amerks won four straight was the first week of November 2007.  I have not looked yet to find when the last time they won five straight in fear of jinxing the situation.
Assuming this style of play continues the questions about "last year" will fade away, but until then they're still relevant.  It's a different atmosphere around the team, the front offices, and even in the stands.
Tyler Plante explained further saying,  "It's definitely a new situation for me and the Rochester dressing room.  It's great.  We're playing for the pride of the team. It's a different feeling that I've never felt here before.  Before we were happy to win but now we're happy to win for the heritage of the team, proud to wear the Amerks jerseys. Every night we go out there and try to wear our hearts on our sleeves."
It was very strange back by the locker rooms after the game.  Usually the visitors side hallway is filled with guys stretching, cooling down, and getting their gear packed up.  On Wednesday night it was very.. quiet.  I'm assuming the Binghamton coaches were letting the team have it.  Anyways, it was great to see that happening on the visitors side and hearing loud music coming from the Amerks locker room.
Victor Oreskovich scored his first professional goal right off of the face off at 5:10 of the first period.  Prior to taking the face off Shawn Matthias made the call on the play, which surprised Oreskovich.  Oreskovich said,  "You don't see that play work too often in the higher ranks, he made a great play on the draw, won it real clean to me and I had all the time in the world to shoot it."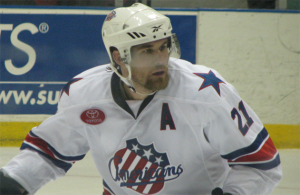 About five minutes later Evgeny Dadonov also scored his first professional goal off  a great backhand past Andy Chiodo to give the Amerks a 2-0 lead.  Graham Mink started the play by trying to put a back hand through the pads of Chiodo.. Chiodo made the save, Taylor got the rebound and took a shot, Chiodo made another save and Dadonov came from the back of the net and easily put it in.
Benoit Groulx talked about Dadonov saying, "Dads he's part of that line with Tails and Graham Mink, he played better tonight.  He got more involved.  More confident with the puck and obviously scoring the first goal takes a little pressure off."
Chris Taylor also talked about Dadonov saying, "It was nice to see Dads' get a little bit of confidence in him.  He was a little frustrated, your confidence always lacks when you don't score."  Now that Dadonov has his first goal on the scoresheet hopefully we'll see some more.  Taylor went on to say, "He's such a good goal scorer, such a good player.  You knew it was coming, just a matter of how and when."
Anyone out there speak Russian and would be interested in interpreting an interview sometime after a game?
It only took another 29 seconds for those same three players to give the Amerks a 3-0 lead halfway through the first period.  Dadonov was on a fast break down the right hand side.  He took a shot and Chiodo made the save and sent the rebound to the opposide side of the ice.  Chris Taylor was there waiting, took another shot and Graham Mink was standing right in front waiting for the rebound.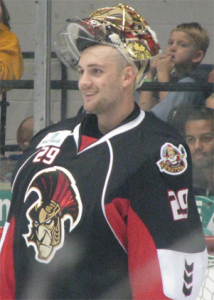 Following the third goal by the Amerks the Binghamton Senators took Andy Chiodo out of the net and put a familiar face into the game, Mike Brodeur.  He said he had a feeling he wasn't going to get the start, had hoped but knew it wouldn't happen.  Chiodo had played well in the Senators previous game.
Brodeur enjoyed being back, "I felt good, I felt like I was at home.  I have a good feeling when I'm in this rink."
Mike York finished off the scoring for the Amerks at 1:54 of the second period on the power play to give the Amerks a commanding 4-0 lead.  He took a nice hard shot from the right hand side that went through Chiodos five hole.
Just over three minutes into the second period we got a glimpse of the physical game that Oreskovich is capable of.  Jim O'Brien was starting to skate up the ice out of his zone when he Oreskovich sent him flying backwards to the ice with a big hit.  Tomas Kudelka quickly went after Oreskovich and Bonneau was also quick to the scene to mix things up.
Oreskovich said he's still trying to find out what kind of hockey player he needs to be saying, "I like to try and use my size and my speed.  I'm just going to try and keep my game simple and try and grab the puck wide and play as physical as possible."
With the Senators being down 4-0 they started playing a more physical game, trying to do something to gain some momentum, trying to get Tyler Plante off of his game.  I counted at least five times that a Binghamton player crashed into Plante pretty hard.  It didn't work.
"I don't remember having seen a goalie hit so many times during a game.  They got called twice but it was obviously one of their strategies to get our goalie out of focus," Groulx said.  "Plante did a great job keeping his focus."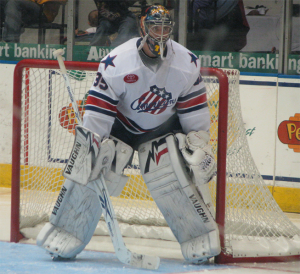 "They were down early and they were playing hard.  bringing everything to net, I think they wanted to get into my kitchen," Plante said.  "I like that kind of game, keeps me in it too i think.  Getting hit, bumped around, keeps me awake anyways."
Referee Francis Charron called two goaltender interference penalties against the Senators, a couple of more could have been called that weren't.
Plante did talk to Charron about what was going on.  "We discussed it.  He said they were just crashing the net hard, i don't think they were doing anything out of the ordinary.  I think they were just doing it a little more than usual in a regular game."
A few times when there was a mixup in front of the net you could see a blocker and a glove aimed at an opposing player.  The two teams play each other nine more times, it'll certainly be an interesting season.
Binghamton got on the scoreboard at 10:46 of the second period off of two great passes on an odd man rush into the Amerks end.  Josh Hennessy slipped a pass past Jason Garrison to Martin St. Pierre who then fed an even cleaner pass over to Ryan Keller on the opposite side of Plante and tipped it in.
Geoff Kinrade of the Senators scored at 5:33 of the third period to make it a 4-2 game.
The Amerks are on the road Friday night in Albany, Saturday in Syracuse, and back at home Sunday evening at 5pm to play the Syracuse Crunch.
Final Scorecard:
Binghamton Senators 2 At Rochester Americans 4 – Status: Final
Oct 21, 2009 – Blue Cross Arena
Binghamton 0 1 1 – 2
Rochester 3 1 0 – 4
1st Period-1, Rochester, Oreskovich 1 (Matthias), 5:10. 2, Rochester, Dadonov 1 (Taylor, Mink), 10:28. 3, Rochester, Mink 2 (Taylor, Dadonov), 10:57. Penalties-Bonneau Rch (interference), 5:26; Spencer Bng (fighting), 10:59; Bonneau Rch (fighting), 10:59; Taylor Rch (interference), 16:50.
2nd Period-4, Rochester, York 3 (Ellerby, Oreskovich), 1:54 (pp). 5, Binghamton, Keller 5 (St. Pierre, Hennessy), 10:46. Penalties-Hamel Bng (tripping), 0:42; Kudelka Bng (roughing, roughing), 3:09; Bonneau Rch (roughing), 3:09; Daugavins Bng (goaltender interference), 11:21; Smith Bng (boarding), 16:53.
3rd Period-6, Binghamton, Kinrade 1 (St. Pierre, Hamel), 5:33. Penalties-Henry Rch (interference), 1:48; Plante Rch (delay of game), 5:51; O'Brien Bng (goaltender interference), 7:50; Oreskovich Rch (slashing), 9:56; Keller Bng (roughing), 16:44; Kudelka Bng (roughing), 16:44; McArdle Rch (roughing), 16:44; Repik Rch (roughing), 16:44.
Shots on Goal-Binghamton 10-9-11-30. Rochester 12-14-9-35.
Power Play Opportunities-Binghamton 0 of 5; Rochester 1 of 5.
Goalies-Binghamton, Chiodo 0-4-0 (9 shots-6 saves); Brodeur 2-1-0 (26 shots-25 saves). Rochester, Plante 3-2-0 (30 shots-28 saves).
A-2,047
Referees-Francis Charron (46).
Linesmen-Peter Feola (33), Tim Kotyra (53).