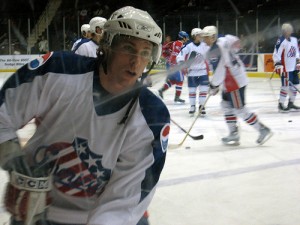 The Amerks could see a couple of players called up this week to the Panthers.  The Florida Panthers just lost their game to the Philadelphia Flyers and had two players out injured by the end of the game.
Radek Dvorak left the game in the second period with an "upper body injury" and did not return to the game.
David Booth had to be taken off the ice on a stretcher after Mike Richards delivered a nasty hit to the head.
The next game for the Florida Panthers is on Wednesday night.   We could see Kenndal McArdle and Shawn Matthias or Michal Repik called up.
The Panthers also need to make a decision on Dmitry Kulikov by Wednesday.
10:11pm Update from George Richards:
David Booth will remain in Philly but the good news is he is awake and has movement in his extremities. Radek Dvorak may be out for a while with what looks like a left knee injury.
From George Richards:
Booth was hit in the Flyers zone and immediately hit the ice where he remained motionless for a few moments. A team doctor from the Flyers was escorted onto the ice and a stretcher was rolled out. The doctor and the paramedics rolled Booth over and there seemed to be a little movement. When Booth was rolled over, a puddle of blood could be seen collecting under where his face had been resting.

Booth collided with Flyers captain Mike Richards who led the hit with his shoulder. Booth didn't appear to see the hit as he was playing the puck and turned into Richards.
If you care to see the hit, here you go:
http://www.youtube.com/watch?v=XUNPTXkcxOQ&feature=player_embedded