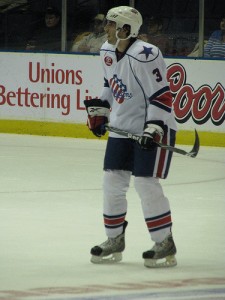 The Florida Panthers recalled Jason Garrison today to join them in Philadelphia for their game against the Flyers.  This is the second time Garrison has been called up.  In six games with the Amerks he is tied with Clay Wilson in points, each with five which ranks them both at sixth in the American Hockey League in scoring by defensemen.
With Fitzpatrick out injured and Garrison called up it means we'll see both Peter Aston and Luke Beaverson in the lineup tonight.  Luke Beaverson played on Friday night in Albany.
This is also the last game that Dmitry Kulikov can play in the NHL before he either earns a full time spot with the Panthers or he has to go back to juniors.  It's entirely possible but not likely that Kulikov will go back to juniors and Garrison will stay with the Panthers.  We'll know more by morning.
Chris Beckford-Tseu was also recalled on Friday and backed up Alexander Salak in Albany.  Tyler Plante is out with a knee injury.  Luckily the Amerks only have two games after this weekend in the next ten days.  Salak should be strong enough to play both games this weekend and next.