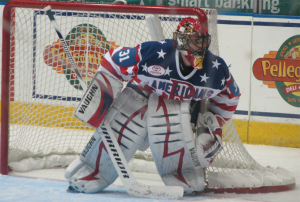 The American Hockey League announced on Monday that Rochester Americans goaltender Alexander Salak has been named the Reebok/AHL Player of the Week for the period ending Oct. 25, 2009.  Salak made three starts in a 48-hour span over the weekend and won them all, stopping 88 of 91 shots for a 0.98 goals-against average and a .967 save percentage.
On Friday night, Salak turned aside 32 of 33 shots and was named the game's first star in Rochester's 2-1 victory at Albany. On Saturday, he finished with 22 saves as the Americans rallied for a 3-2 overtime win in Syracuse. And on Sunday evening, Salak was again selected as the number-one star of the game as he stopped all 34 Syracuse shots for his first career AHL shutout, a 3-0 decision over the Crunch.
In recognition of his achievement, Salak will be presented with an etched crystal award prior to an upcoming Americans home game.
Salak is now 5-0-0 with a 1.60 goals-against average and a .947 save percentage in six appearances for Rochester, helping the Amerks to a seven-game winning streak and an 8-1-1-0 record overall, good for first place in the North Division. The 22-year-old rookie is in his first season of North American pro hockey after signing with the Florida Panthers on May 29, 2009. A native of Strakonice, Czech Republic, Salak spent the previous two seasons playing with TPS Turku in Finland.
Here's an excerpt from Sundays post game recap:
Benoit Groulx talked about Salak saying, "He's the only one who's 60 minutes out there and did not show any signs of fatigue or anything physically or mentally."

There was never any question in the minds of the coaches about him playing all three nights.  "I told him that he was in and that was it, he had no choices," Groulx said.

Alexander Salak did not seem to mind either, "That was tough," he said.  "But it was good.  We won 3 games in a row and i don't mind much."

It helps that Salak can count on the defense in front of him.  Keaton Ellerby has been playing his best hockey yet with the Amerks.  He's skating fast, controlling the puck, not losing the puck, and holding on to his stick.

"If i give up a rebound the guys get it, they make our game really easier and it was fun to play," Salak said talking about counting on the defense.

The defense is also relying on him.  Clay Wilson said, "He's a good solid goalie.  He's everything you need.  Gives you confidence that he's going to make the save.  If you mess up you can have a little extra confidence because he's standing on his head right now."

Watching Salak in net can give someone high blood pressure with the way he plays.  When asked how to describe his style of play he just says, "I just do what i think is right.  This is my game."
If you still have not had the chance to see Salak play here's about 1:30 of him in action.  I think you'll get an idea of what he's like all over the place.
http://www.youtube.com/watch?v=C3fIgeTs-KU
While Alexander Salak is getting well deserved honors for his play it's still worth noting that Tyler Plante has also been playing well this season.  Once his knee is healed and he can return it should be quiet the battle for the goalies trying to earn a start.
The Amerks are back in action on Friday October 30th in Binghamton.