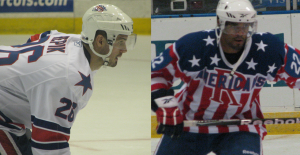 Michal Repik and Kenndal McArdle both earned their first call ups of the season to the show on Monday morning.  The Florida Panthers are in need of some extra help with David Booth (concussion) and Radek Dvorak (knee) out of the lineup for their game on Wednesday.
Repik is currently Rochester's leader in points with 6 goals and 5 assists in nine games.  Repik is also seventh in the American Hockey League in scoring.  This will be his third career recall.
Kenndal McArdle currently has two goals and four assists and he also leads the team with 54 penalty minutes in en games.  Those 54 penalty minutes also tie him for 2nd in the league with the most penalty minutes.  McArdle also leads the league with 12 minor penalties.
McArdle has played a different type of game this year.  He's playing a more physical game and not afraid to back down from anyone who gets in his way.  Although he has 12 minor penalties I can't think of any that stick out as being "dumb penalties."  He's aggresive and it shows.
While I hope the Panthers stay healthy this season to keep down the number of callups needed it's also refreshing to know that this Amerks team is capable of playing on.  Last season if Repik and McArdle had been called up at the same time along with Duco and Fitzpatrick out of the lineup we would've been near the brink of a disaster.
Brady Calla and Andrew Sweetland will likely get some playing time on Friday in Binghamton.  It's possible but not likely that Repik and McArdle will be sent back by then.