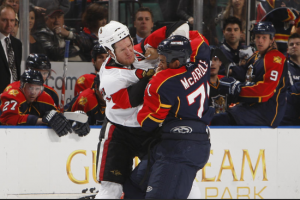 Kenndal McArdle was called up to the dance from the Amerks and played in Wednesday nights Florida Panthers vs Ottawa Senators game.  McArdle is currently second in the American Hockey League in penalty minutes showing that he's standing tall and willing to use his body to make a name for himself.
He did just that in the game tonight by dropping the gloves to fight Shean Donovan of the Ottawa Senators.  It's been talked about that the Panthers need some toughness and McArdle is showing he's willing to give it a shot.
It wasn't much of a fight but it's further proof he's putting everything on the line this season every chance he gets.
http://www.youtube.com/watch?v=VH8n5iyk-AM
He apparently missed a couple of easy setups by Dominic Moore, but we can toss that to first game jitters.  McArdle also had one shot and 4:12 in ice time.
Michal Repik also played and 6:07 in ice time and was a -1.