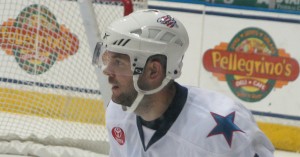 The Florida Panthers have recalled Jeff Taffe from the Rochester Americans. While the Amerks are on a hot streak the Panthers are in need of help. More later, not too easy posting from a blackberry.
Updated 8:03pm… Finally home and in front of a computer.  As posted earlier Taffe was called up to fill in for Dominic Moore who is undergoing nasal surgery.  Moore is expected to be out for about a week and return next Wednesday Nov 4th.
Moore had his nose broken in last weeks game vs the Flyers and has been wearing a full cage.
Taffe was signed by the Panthers over the summer to a two year contract, the first year being two way and the second year one way.  Taffe can play up to 10 games or 30 days before he'd have to clear waivers to be sent back down.
The Amerks play on the road Friday night against the Binghamton Senators.  With Taffe flying out of town to john McArdle and Repik we'll get to see what this Amerks team is capable of.  A "championship" team should be able to play through injuries and call ups.
I'll be there in Binghamton to cover the game.