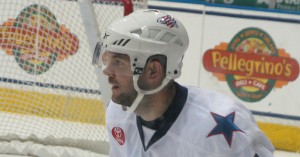 The Panthers next game is Wednesday night against the Carolina Hurricanes and Jeff Taffe is headed to the airport to join the big club again.
Updated 6:12pm: Apparently Dominic Moore is not ready to return from the nasal surgery he had to help fix his broken nose.  I had originally speculated he was sent down as a cost saving measure to save the team from having to pay him an NHL salary.
It seems as if I need to just write two standard articles titled "Taffe called up" and "Taffe sent down" to quickly put up throughout the season.
The Amerks next game is Friday night against the Syracuse Crunch, he could be back to Rochester by then.  Based on this past weekends game against the Binghamton Senators we could use him but I think the team will do just fine.