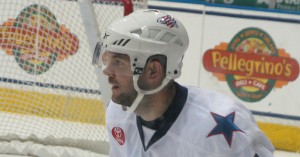 The Florida Panthers put Jeff Taffe, Keaton Ellerby, and Michal Repik on a flight back to Rochester on Sunday afternoon.  Ellerby was the only player who did not suit up.  Taffe and Repik both saw some ice time but neither scored any points.
The only newsworthy bit of info worth reporting is that Taffe was hit in the face by a puck during Saturday nights Panthers vs Blues game and comes back with a nice black eye.
Victor Oreskovich and Kenndal McArdle remain with the Panthers.  The next game for the Panthers is Wednesday night against the Carolina Hurricanes.  Oreskovich saw almost 14 minutes of ice time Saturday night and was given credit for three hits in the first period.
The three players returning of the five called up last week are the ones I'd prefer to have back.  McArdle and Oreskovich have proved they're a part of the Amerks offense but Repik and Taffe are two of the top scorers on the team.
The Amerks return back with back to back home games on Friday versus the Syracuse Crunch and on Saturday versus the Toronto Marlies.