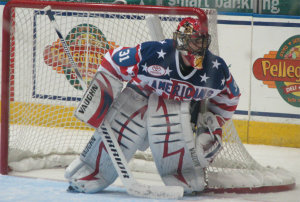 Alexander Salak was named the Reebok/AHL Rookie of the Month for October, something he worked hard for and earned.  Salak helped to lead the Rochester Americans to the best record in the AHL for the month by going 6-0 with a 1.66 goals-against average and a .947 save percentage.  Salak will look to extend his winning streak to seven games Friday night against the Syracuse Crunch.
I had the great opportunity to be one of the first people to see Salak practice in North American when I went up to the Florida Panthers development camp back in June 2009.  You don't always see everything in a player during practice sessions, but when it comes to Salak I hit the nail on the head with my writeup about Salak back in June.
About his style:
Salak was not afraid to come out of the net, he does not stay back between the pipes, but seemed to have a sense of where he was at all times.  Another thing that I noticed was that his stick is all over the place.  He was reaching for and poking at the puck every chance he could get.  My first thoughts were that this kid was all over the place, but no matter where he was he stopped the puck.  That would be where the Hasek similarities come from.
About adjusting:
Watching Salak play may increase the blood pressure of fans as you wonder what he is doing and why he is so far out of the net, but that does not mean he is flopping around like a fish out of water.  He has a desire to learn and a desire to play in the NHL sooner rather than later.

"If you want to play in the NHL you have to learn with new teams and you have to improve yourself really fast," Salak said.
Being tested in the crease, something that's happened:
When I asked Salak about his 61 penalty minutes over the previous two seasons he laughed and said, "it's not anything bad."

What some may call his temper is one of the only negative things I could find out about him.  When he starts playing he will be bumped and nudged a lot more as opposing players test him so it will be interesting to see where this leads.
And forgetting about the goalie who left us:
Assuming that Alexander Salak does start the season with the Rochester Americans he will more than likely help fans forget that Mike Brodeur has moved out of the city.
Alexander Salak is not showing any signs of slowing down or having any problems of adjusting to the North American game.  The Florida Panthers saw something in Salak and they were able to convince him to sign with them.  If Salak continues to play the way he has this could turn out to be the most under rated free agent signing of the year.
Amerks fans have been quick to praise Curt Styres and the rest of the Amerks management for building this team.  Without the Panthers getting Salak signed to a contract and being great business partners none of this would have been possible.  It's still early in the season but things are looking great so far.