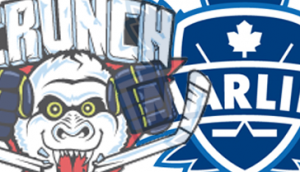 After what seems like an eternity since last weekends road win in Binghamton the Amerks are finally back to action tonight against the Syracuse Crunch.  On Saturday night they'll take on the Toronto Marlies.
The last time the Amerks and Crunch played was October 25th when Amerks shutout the Crunch 3-0.  That same game ended with a total of 54 minutes in penalties in the last 10 seconds of the game.
Rochester is currently tied for first place in the league with the Manchester Monarchs at 19 points.  The team certainly does not take their eight game winning streak for granted and they're certainly not acting over confident.  That will be tested tonight when they play a Syracuse Crunch team that is short on players.
Derek MacKenzie and Alexandre Picard were called up this week by the Columbus Blue Jackets and center Jared Aulin is out of the lineup with a hand injury.  Simon Ferguson was signed to a PTO by the Crunch to join the team for some needed help.
During the 2008/2009 season some teams seemed to take the Amerks lightly and the games were close, that's something that could happen in reverse this season.
Look for the Amerks to try and get another fast start to the game.  We can also expect Round 6 between Jimmy Bonneau and Jon Mirasty.  I saw Bonneau earlier this week and he smiled when I asked if there would be another round.  We'll probably see the Crunch act like fools on the red line during warmups as well.
Rochester is 3-0 versus the Crunch so far this season and has outscored the Crunch by a margin of 10-3.  The Crunch last played the Adirondack Phantoms and lost that game 5-0.
Rory Fitzpatrick is questionable for the game and Chris Beckford-Tseu will likely be called back up to keep tally of face offs from the bench.
On Saturday night the Amerks are home again against the Toronto Marlies.  The Amerks are currently 2-0 against the Marlies this season.  The two wins include a 5-2 romp at home followed by a come from behind 4-3 win in overtime in Toronto the following day.
With only two games following a long week off Alexander Salak will get the start both nights.
The Amerks are playing some of the best hockey this decade in Rochester, they're the best team in the AHL, and local TV stations are finally starting to take notice.  Baseball is over, it's time to get the arena filled!  The value is there for your money, don't be afraid to spend it.