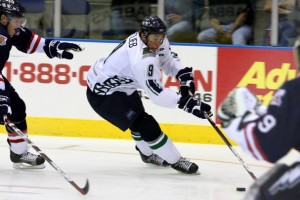 The Amerks are bringing in another body for tonights game against the Toronto Marlies.  The team has brought in Ernie Hartlieb to fill in for a now injured Luke Beaverson.  With Taffe, Repik, Oreskovich and McArdle still with the Panthers they had no one else in Rochester.
Beaverson was injured Friday night when Kevin Harvey "finished his check" with an elbow that took Beaverson out of the game.  There's no timeframe at this time for his return.
Ernie Hartlieb has scored three goals and two assists in 11 games for the Florida Everblades this season.  Last season he had 21 goals and 33 assists in 70 games with the Everblades.  The 6'2″ veteran player has played in a total of 131 AHL games split between Grand Rapids and Worcester.  He has played nine seasons of professional hockey, most of which has been spent with in the ECHL.
He's a bigger player and is a veteran, someone that fits the profile of players that Amerks like this year.
It's interesting to note, but not unexpected that Dan Collins was passed over.  Anyone who has read this site often will know that I've rarely had anything good to write about Collins.
James DeLory could have been another possible option but he has only played in two games for the Bossier-Shreveport Mudbugs in the ECHL.  They're still "evaluating him" for their roster.
Jacob Micflikier has been on a hot streak with the Everblades but he is currently signed to a contract with the Albany River Rats.  If there was a long term need I could possibly see the Amerks trying to get him on loan, but not for the short term.