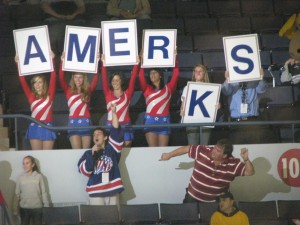 The Rochester Americans defeated the Toronto Marlies Saturday night in front of 4,069 fans to extend their win streak to ten games, fulfilling one half of a promise by owner Curt Styres.
Last season Curt Styres had promised two 10 game winning streaks during the 2008/2009 season, at the time it was an absurd statement.  I wasn't present for the comment but I think the part left off was him saying, "next season."
Saturday nights game was another great team performance.  It's really hard to believe at this point that they played this weekend without four key players.
The 10 game winning streak is now one game shy of tying the franchise record of 11 wins set during the 1984-1985 season.  It's probably no coincidence that was the same season that Jody Gage and Ted Nolan played together, two guys responsible for the success of putting this current team together.
Rochester now improves to 11-1-1-0 with 23 points to stay in first place in the American Hockey League.  One game at a time.
"It's hard to stay on top," Chris Taylor said  "It's hard to keep winning and winning and everyone wants to beat us.  It's good for us, puts us into a little bit of a challenge."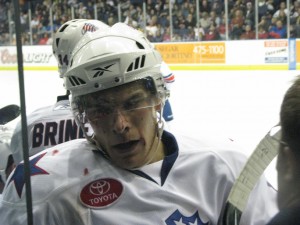 The Amerks are playing the right amount of players but it didn't look good that Brady Calla cut his forehead wide open on his first shift of the game and left the ice bleeding.  I didn't catch the play but it sounded like a hard hit by the boards and his helmet is what cut him.  He eventually returned to the game and on his first shift blocked a hard shot at the blue line, it was one Calla's better games.  Maybe he should bleed some more?
Todd Perry put the Marlies at an early 1-0 lead only 1:58 into the game.  Jiri Tlusty fired a wide shot off the back boards and as Perry took control of the puck he fired a shot and was layed out by Mike Duco.  Unfortunately the puck found its way past Salak.
Ernie Hartlieb, newcomer to the Amerks but not to hockey, tied the game 1-1 at 7:20 of the first assisted by Clay Wilson and Shawn Matthias.  Matthias started the play by hitting two and knocking two Marlies players to the ice in the Amerks zone.  He was then able to get the pass up to Hartlieb who passed it to Wilson but Wilson quickly gave it back to Hartlieb to take the shot and score.
"When I gave it back to him I was  just going to go to the net hard for a back door or maybe a rebound," Hartilieb said describing the goal.  "When he gave it back to me I was like ya know what I'm just going to shoot it and when i looked up I saw the little corner up top and it went post post and in."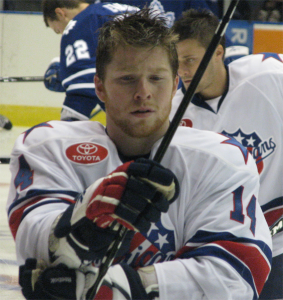 It only took Mike Duco just over five minutes into the second period to score what would become the game winning goal.  Marlies goaltender Joey MacDonald made the initial save on Garrisons shot and as MacDonald looked over his left shoulder for the puck Mike Duco took the rebound and scored on MacDonalds right side.
I was critical recently of Duco for his play but he seems to finally be back.  He's playing hard, hitting, finishing his checks, chirping the opponent, and finally scored a goal.
A mere 16 seconds later David Brine entered the Marlies zone in the middle, skated to the left and around the face off circle before his wrist shot scored high past MacDonald to make it a 3-1 game.
"Everyones chipping in and that's what we've got to do to keep winning," Mike Duco said.
As the third period rolled along there was the sense of wanting to get excited but also the memories of Friday nights game and blowing a lead in the third period.  That would not be the case against the Marlies.
"Yesterday I said we had to learn from the game last night," Benoit Groulx said.  "I thought we played a strong third period.  Very focused.  For 60 minutes we didnt give them much.  The work was well done today."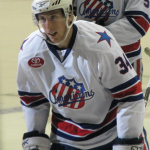 Brine also scored an empty net goal with 37 seconds left in the game off a back hand from center ice.
David Brine has been through a lot.  He's played on the previous two horrible teams.  He's been given different line mates every week, yet he continues to play hard every night.
"I'm being put in a position where i'm getting the chance to excel.  I'm playing with great players and the pucks are going in," David Brine said.  "Everyone loves scoring  goals.  It's fun, a great feeling.  Especially when you're winning."
Last year at this time I wrote on November 5th wondering if the team had "hit rock bottom."  On November 8th I wrote about "throwing in the towel" following a loss to the Manitoba Moose.  Amazing the difference a year makes.
"It's a little different from 10 losses," Mike Duco said.  "A big change from last year.  Everyone is.  The dressing room is a completely different mindset.  Everyone is excited to come to the rink, excited to come play games, we've just got to keep going."
The next game is Tuesday evening against the Hamilton Bulldogs who just lost their first game in regulation on Friday night.  The Bulldogs have been playing well and could be the first real challenge for the Amerks.
When asked about the Bulldogs, Chris Taylor said, "I have no idea what they're doing, I only worry about this team"  Taylor went on to say, "Every game we play, especially at home we have got to be at our best, try not to lose any points at home."
———————-
Toronto Marlies 1 At Rochester Americans 4 – Status: Final
Nov 7, 2009 – Blue Cross Arena
Toronto 1 0 0 – 1
Rochester 1 2 1 – 4
1st Period-1, Toronto, Perry 1 (Tlusty, Deveaux), 1:58. 2, Rochester, Hartlieb 1 (Wilson, Matthias), 7:20. Penalties-Taylor Rch (interference), 12:11.
2nd Period-3, Rochester, Duco 2 (Garrison, Johnson), 5:07 (pp). 4, Rochester, Brine 6 (Wilson, Ellerby), 5:23. Penalties-Deveaux Tor (goaltender interference), 4:02.
3rd Period-5, Rochester, Brine 7 Â  19:23 (en). Penalties-Taylor Rch (cross-checking), 6:13; Mikus Tor (hooking), 13:14; Oreskovic Tor (cross-checking), 14:32.
Shots on Goal-Toronto 8-9-8-25. Rochester 11-10-10-31.
Power Play Opportunities-Toronto 0 of 2; Rochester 1 of 3.
Goalies-Toronto, MacDonald 2-1-0 (30 shots-27 saves). Rochester, Salak 8-0-0 (25 shots-24 saves).
A-4,069
Referees-Chris Brown (86).
Linesmen-Jeff Walker (28), Justin Prusak (70).