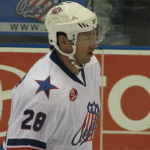 He came, he saw, and he scored a goal.  Ernie Hartlieb did exactly what was needed for his one game with the Rochester Americans on Saturday night against the Toronto Marlies.
Hartlieb was returned to the Florida Everblades today.  He was called up to fill a void in the roster with Luke Beaverson out injured.  On his first shift and first shot as an Amerk he scored a great goal with the assists going to Clay Wilson and Shawn Matthias.
The veteran forward played a solid game and should the need come again I can see him being one of the first to get a phone call.  He was no longer needed with Taffe and Repik back in Rochester.