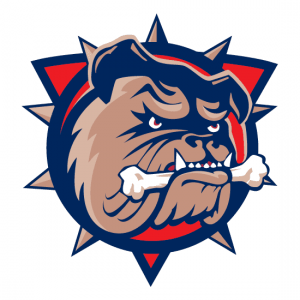 The game tonight is shaping up to be the Amerks biggest challenge so far this season.  The Hamilton Bulldogs and Rochester Americans are similar in a number of ways.  The biggest difference between the two teams is three games.  The three games is three wins for the Amerks and three shootout losses for the Bulldogs.
The Amerks are on a lengthy winning streak.  They have a great goalie.  Great chemistry on the team.  Great leadership on and off the ice.  All of the ingredients exist with this team and it shows in the standings.
Rochester is number one in the standings and also has the best streak going in the league.
The starting goaltenders will be Alexander Salak and Curtis Sanford, two of the hottest goalies in the league right now.  Sanford is a veteran having played in 209 AHL games and 108 NHL games.  Salak is the hot rookie from the Czech Rep. that has played in a total of 8 AHL games.
The Amerks have played well without Jeff Taffe and Michal Repik so having them back in the lineup will be a big help.  Everyone has been contributing but the more seasoned players the better.
I'll admit I'm a little superstitious and have been told that I'm a jinx, which is why I'm holding off on writing actual numbers.
When Chris Taylor was asked about Hamilton after Saturday nights win he said, "I have no idea what they're doing, I only worry about this team."  Taylor went on to say, "Every game we play, especially at home we have got to be at our best, try not to lose any points at home."
While we (as fans, journalists, and bloggers) talk about the record, the streak, and look around the league it's the opposite for the players.  It shouldn't come as a surprise though, that's how it's supposed to be.
It's going to be yet another great game.  There's no school on Wednesday so it could be a decent sized crowd.  Make sure to follow the Amerks recent press release saying to get tickets ahead of time and avoid long game night lines.
I'll be at practice in the morning, will follow up if there's anything else worth reporting.  See you at the game.