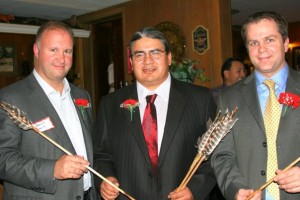 "One game at a time, it's an old cliche but it's true," is what Ted Nolan said on the John DiTullio show Wednesday afternoon.
The key to making that old cliche true is to believe in it.  Every player in the locker room believes in taking every game one at a time and playing every game for what it is worth, two points.  It's not about winning streaks.  It's about the goal of making the playoffs.
It all starts at the top with owner Curt Styres.
The Rochester Americans Booster Club recently hosted their annual meet the players dinner which is a great opportunity to meet the players and staff, hear stories,and appreciate what we have here in Rochester.
Curt Styres stood at the head table and talked about the experience of him buying the team and people telling him he was crazy.  Curt talked about last season when they had meetings talking about what needed to happen for this season to be successful and what they needed to do to make it happen.  He also made it known he was willing to open his wallet.
"Any time you see your owner at functions like that it means a lot to the players," Chris Taylor said.  "He's stepping out and being part of the team.  He's coming out and doing these things to support us as well."
Jimmy Bonneau is the type of player that Curt Styres loves.  Someone who plays tough and likes to throw punches as well as take them.  Bonneau said that Styres told him some nice things that the dinner that he appreciated.  "You can see it in his eyes.  He loves it.  This is obviously a business but its a lot more than just a business to him."
The owner of a sports team is rarely talked about unless it's something negative.  I wondered how much the owner really matters to the players on the ice.
I asked Graham Mink if you need the owner to care or if it's just about the chemistry on the ice.  Mink replied saying, "You do need the owner to care, it starts at the top and works its way down"
"When you see a man as successful as him and still craves success with an American Hockey League team it means a lot to me," Mink had gone on to say.
The players know the history of Jody Gage and Ted Nolan in the world of hockey.  They know what they've accomplished.  What very few knew about was the how passionate Curt Styres is.
One of the deciding factors for two time Calder Cup champion Graham Mink to come play for Rochester was the owner.
"I did some research and read his story a little bit," Mink said.  "He seemed like a pretty remarkable guy.  I was excited to come and be a part of it."
Mike York has played for six different NHL teams for a total of 579 NHL games.  "He's done a lot for the team, brought in a lot of veteran guys."  York said.  "He's a behind the team owner 100% and it shows on the ice."
When it was announced six months ago that the Amerks would be playing the Pirates at HSBC in Buffalo there's no way anyone would have written this story about how big this game would be and how quickly an owner could help turn a franchise around that was on the brink of shutting down.
Rochester is going for a franchise record 12th straight win on the road in the building of it's former affiliate, the second season in a row the Pirates are playing a game in Buffalo.
Jimmy Bonneau played for the Portland Pirates when they played the game at HSBC last season and said it was a really fun experience.  To play in front of 11,000 plus fans is always a treat when it's considered your home crowd.  "Hopefully we get people from Rochester there to cheer for us," Bonneu said.
Everyone knows about the "messy divorce" the Sabres and Amerks went through.  It divided the players stuck in the middle of the dual affiliation.  It created a world of controversy in the media and even involved Rochester Mayor Bob Duffy.  It even divided the fan base.
A short 18 months later and everything has changed.  Curt Styres, Jody Gage, and Ted Nolan put together just what was needed in Rochester – a roster of players that believes in the philosophy and environment that's full of pride and passion for the team and city they play for.
This will only be the 15th out of 80 games this season.  There's still a long season ahead but the hard work and dedication of Curt Styres has made it's way to the locker room and that's important this early in the season.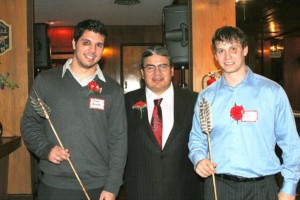 The booster club dinner was the first chance for most players to meet Styres and really get to hear him talk.
"It was the first time i ever met him," Jimmy Bonneau said.  "He's a man that really has a presence. people sit down and really listen to what he has to say."
"We don't see them very much in the dressing room," Mike Caruso said.  "They're always in front office doing their business.  It was nice to connect with him."
"To hear him talk shows he cares," Clay Wilson said.  "A pleasant surprise from an owner."
The surprise of the evening was after dinner when Curt Styres opened up some boxes and proceeded to give every player and coach an arrow that was hand made by one of the elders back home.  Seeing the smiles on the faces of the players as they received a hand made aarow from the owner was like seeing some kids opening their favorite present.
Sometimes we hear about players receiving lavish gifts such as jewelry, but I think this meant a lot more getting something from the heart.  Something that was hand made.  Something with meaning.
"It was an honor to get that," Chris Taylor said.  "That's a very nice gift that they make right there on the reserve."
"That arrow was pretty cool and that will definitely be a souvenir that I'll have for my play dates for the rest of my life," Graham Mink said.  "I think the city of Rochester is lucky to have him as an owner."