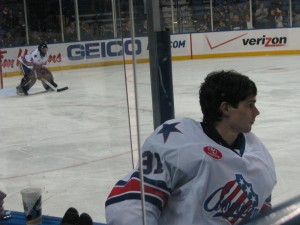 Playing against a team that has nothing to lose is probably the worst team to play against.  That proved true on Thursday night in Buffalo at HSBC Arena when the Amerks 11 game winning streak came to an end.  Portland was the better team on Thursday night and they won 6-3.
"You have to give them credit, they deserved to win tonight," Benoit Groulx. "I'd rather give Portland credit than blaming our guys."
The Rochester Americans lost.  Does that mean there is anything wrong?  Nope.
Alexander Salak explained after the game saying, "All of the guys try hard."  What he went on to talk about was that if the team wasn't playing hard there could be some concern, but there shouldn't be.  It was just a loss.
Alexander Salak lost his first game of the season and was also pulled from a game for the first time.  Nothing to worry about, 8-1 is still an awesome record to have in your first year playing professionally in North America.
The Pirates played a great game of controlling the flow of the game.  They also did a great job defensively preventing the top guys on the Amerks team from getting plays setup.
Mark Mancari probably felt great after scoring the first goal of the game on the power play with his signature slap shot from the blue line.  He fired the puck and put it top corner of the net.
A short 17 seconds later Jeff Taffe with his own slap shot in front of the net to tie the game 1-1.
Rochester went ahead 2-1 in the first period when Jamie Johnson tipped a Jason Garrison shot past Enroth.
Portland answered back in the second period with a short handed goal at 4:43 which put the momentum of the game in their favor.  Three goals later in the second period and that was the game.
"Overall I think the team was due to play a game like tonight.  We were so good against Hamilton and Toronto," Groulx said.  "You can't expect your team to be that good every night, that was a time tonight.  We would have loved to have this record but like I've said before, it's a long season"
The Pirates did a great job controlling the Amerks top players.  Chris Taylor, Graham Mink, and Clay Wilson were all a -3 on the final scorecard.  Keaton Ellerby was a -3.  Michal Repik and Evgendy Dadonov were both a -2.
As a fan the winning streak has been great.  In a way I think it's great that it's over.  Ever since they've started winning that's what all of the questions have been about from everyone, in a way I bet some of them are thinking maybe they'll get asked something else.  Now the Amerks can get back to work on their game and finding a way to stay in control.
"We had a bad game in the system, it's time to park this game and move on to Saturday night," Groulx finished the night saying.  "We did not have the energy that we do normally."
The last time the Amerks lost a game was on October 10th when they played a horrible game in Albany.  The Rats controlled that game.  The Amerks were not able to get anything going.  If history repeats itself this team knows how to learn from a loss.
The Amerks next game is Saturday night on the road against the Grand Rapids Griffins, a team that is currently riding an eight game winning streak as of Thursday night.  The Amerks had a fairly easy schedule to start the season, now some bigger games are on the horizon.
A few other notes………..
** The attendance reported for the game was 4,685 people.  A lot less than the 11,000 plus at last seasons Pirates game.
** Great group of Amerks fans spread out throughout the building though.  We showed our prescence in the arena.
** I guess it's against the rules in an NHL arena to have anything that makes "noise."  I know some fans were not allowed to bring their horns into the building and a security guard told us to put our cow bells away.
** HSBC Arena is huge.  I'm used to AHL arenas where you can quickly get from point A to point B in a matter of minutes.  Not the case at HSBC.  I lost a lot of time trying to get around.  Staying parked in my seat next time.