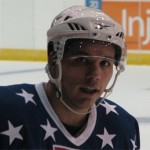 Jimmy Bonneau gave his face a nice four day rest before he dropped the gloves again on Saturday night in a fight against Paul Crosty of the Grand Rapids Griffins.
Great scrap between the two.  Crosty got a nice upper cut around the 30 second mark yet Bonneau was able to stay in it and got a few good shots of his own in.
It's funny looking at the picture here of Bonneau during the Amerks first regular season game this season back on October 3rd.  He's almost unrecognizable without the cuts, bruises, and black eyes.
Bonneau will have a tag team partner in town this week with the arrival of Steve MacIntyre to Rochester.  I'm hoping to get to practice on Tuesday and follow up with an article on MacIntyre.
http://www.youtube.com/watch?v=HIemVS8Ow_w
Appears as if these two have a history dating back a few years.  Also found this video of a fight between these two when Bonneau played for the Cincinnati Cyclones.  Crosty played for the Toledo Storm at the time, the game was on November 19, 2006.
http://www.youtube.com/watch?v=rA1OCjT2ttQ
Next Fight: Friday November 20th Rochester Americans at home vs Syracuse Crunch.  Steve "Big Mac" MacIntyre should also be in the game as well.