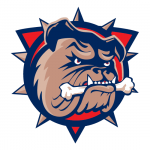 The Amerks will be getting on a bus to head north of the border later this afternoon to play against the Hamilton Bulldogs in the second of ten games between these two teams this season.  The Amerks defeated the 'Dogs on November 10 by the final score of 4-1.
That game featured Chris Taylor, David Brine, Jamie Johnson, Mike York, Evgeny Dadonov, and of course Alexander Salak.  The turning point in that game was the Amerks ability to kill of a two minute 5 on 3 advantage for the Bulldogs (read the recap of that game).
The key to the game will be the same as the other 14 games the Amerks have won.  A solid team effort, goal tending, and making the least amount of mistakes in the game.
Rochester is coming off of a huge 5-2 win over the Syracuse Crunch this past Friday night.  Looking back at the game it was probably the best hockey game played in Blue Cross Arena in at least four years.  There was some great fights, awesome goals by Matthias and Sweetland, a hat trick from Keaton Ellerby, outstanding goaltending, and a huge crowd.
What made that game great was that besides Salak in goal some other players took care of the scoring.  A well rounded team has been the key to this season and will continue to be.
After Tuesday nights game the Amerks will return to play at home against the Wilkes-Barre/Scranton Penguins on Friday November 27th before going on a six game toad trip.  In total the Amerks will play seven games in 10 days.
Here's some stats worth mentioning:
** The Amerks have won 13 of their last 14 games, which includes nine straight at home, and own the league's best winning percentage (.853)
** The Amerks, who are tied for third in the AHL with four shorthanded goals, have outscored their opponents 52-27 in the last 13 games and have allowed the fewest number of goals in their division with 38
** Rochester currently ranks second in the AHL with a 25.0 power-play percentage and seventh with an 88.3 penalty-killing percentage
** Chris Taylor, whose 15 points are tied for second best on the team, sits just two assists away of surpassing Dick Gamble into the No.4 spot on the franchise's all-time list. Additionally, Taylor sits just two goals and eight points away from moving ahead of Craig Charron and Norm "Red' Armstrong for 15th and seventh on the all-time list, respectively. He needs just seven games to leapfrog the 390-game benchmark set by Amerk legend Don Cherry.
** Jamie Johnson, coming off a three-game point streak, remains Rochester's top point-getter with a team-high 16 points.  Johnson has picked up seven goals and five assists for 12 points in his last nine games, averaging just under a point per game.
** Mike York, currently on a three-game assist streak (0+4), paces the Amerks offense with a team-high 11 assists and continues to be the team's frontrunner in the power-play assists table with seven.  York did not play in last Fridays game due to illness.  His 11 assists tie him for eighth in the league.
** Amerks tough-guy Jimmy Bonneau is first on the team and tied for 12th in the league with a team-high 71 penalty minutes after dropping the gloves 11 times in his last 11 games.
** Alexander Salak, who was named the AHL's Reebok/AHL Rookie of the Month for October, shows an 11-1-0 record with 345 saves in just 13 games. His 1.88 goals-against average and .938 save percentage are currently sixth and fourth among league netminders, respectively, while his 11 wins are presently a league best. Additionally, despite tabbing his first loss of the season two weeks ago, the Rochester netminder still holds the best record in the AHL among active goaltenders. Salak has started the last 10 games for Rochester, posting an 9-1-0 record in that time with 273 saves and just 17 goals against. In 13 games, Salak has only allowed 23 goals.