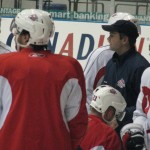 The Amerks had a light game day skate this morning at Blue Cross Arena prior to the road game tonight in Hamilton.  The only items worthy of noting from practice was that it was all of the "non vets" and minus tonights starting goalie Alexander Salak.
Healthy scratches for tonight will be Brady Calla, Peter Aston, and James DeLory.
Steve MacIntyre is a beast in front of the net.  It was amusing watching him stand there as Clay Wilson and Keaton Ellerby tried to defend against him.  Mac pushes those guys around like they're rag dolls.
Game is at 7:05pm and you can watch it live on AHLLive.com for $6.99, listen at WHTK 1280 AM/107.3 FM, whtk.com or watch it elsewhere online if you know where to look.
Clicking the pictures will take you to flickr: