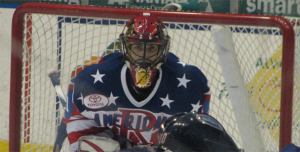 On this day I'm thankful for a lot of things in life, since I write about the Rochester Americans on this web site one of the things that I will be thankful for is goaltender Alexander Salak and what he brings to this team.
Salak continues to impress us every game that he plays.  Just when you think he's made an amazing save he makes yet another one.  On Friday November 20 against the Syracuse Crunch he made this spectacular save with his blocker hand.  The puck was passed across the ice to Jared Aulin of the Syracuse Crunch and Salak dropped his stick, dove across the crease and caught the puck with his blocker hand.
My first reaction was that he did an amazing job covering up the puck and "tricking" the ref and goal judge into thinking the puck did not cross.  After watching the replay it's obvious he made the save.
Not only did he catch the puck with his hand but he also managed to tuck it under his stomach as he fell to the ice and kept it from crossing the line.
After the game Amerks head coach Benoit Groulx talked about Salak saying:
We're getting used to it.  It's his style and that's the way he plays.  To me that shows a level of competitiveness.  We're used to it.  He anticipates well.  He competes hard and he's so quick.  He's like a cat out there, he's moving quick.

Am i surprised?  Not really anymore.  I used to be but not anymore.  Have i ever seen that? I don't remember.  There's many stops he's made that I've never seen anywhere.
Watch it for yourself:
http://www.youtube.com/watch?v=ocWIkYQeg2Y
It's amazing talking to Alexander Salak in the locker room after games.  We are all amazed by his style of play and the saves that he makes but to him that's just part of his game, he doesn't think that much of it.
He's compared to Dominik Hasek more than anyone else for the way he plays in net.  It's hard to describe without seeing him.  Here's a short video I made that gives you an idea.
http://www.youtube.com/watch?v=C3fIgeTs-KU
Enjoy and share!!