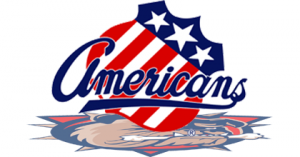 The Rochester Americans won their 15th game of the season and third in a row defeating the Hamilton Bulldogs by the final score of 5-2.  I think that's it is safe to say that this Amerks team is for real.  It is still early in the season with only 18 games played but the way this team is playing no one can call them a fluke any longer.
It was a good game by both teams through two periods of play before the Amerks stepped up their game to light up the scoreboard by overpowering the Bulldogs in the third.  Goals scored by Graham Mink, Andrew Sweetland, David Brine, and Jeff Taffe all in the third period secured the win for the Amerks.
This is the recipe that has led the Amerks to success this season.  The mix of scoring from vets and returning players is a lethal mix.  Toss in superb goaltending from Alexander Salak every game and there's reason to stay excited.
The Amerks killed off three penalties in the first period in what was a back and forth period.  Some great scoring chances by each team but solid defense and goaltending kept the period scoreless.
Mike Duco scored the only goal of the second at 1:43 into the period.  The puck was along the boards and instead of getting mixed up with Mike York he stepped out from the play to the front of the net.  York saw Duco's move to the front, passed him the puck and Duco put it away into the far corner of the net.
Heading into the third period is when the game became exciting.  In a matter of three minutes and 45 seconds early in the third period four goals were scored.
Graham Mink scored off his own rebound at 3:10 of the second period.  Evgeny Dadonov passed the puck to Mink in front of the net.  Minks initial shot went off the helmet of Curtis Sanford but as the puck rolled over behind him Mink kept his eye on it and tapped it in right at the post.
Only 47 seconds later Andrew Sweetland scored his second goal of the season by tipping in a rebound to the left of the net.  Sweetland is a player we've been critical of since the start of the season but he sure as turned a corner.
Mike Glumac was not satisfied his team was down by three goals and it only took him 14 seconds to put the Bulldogs on the board and ruin a possible shutout for Salak.
With the Bulldogs able to respond so quickly it appeared that it was going to become a game.  A two goal lead is not significant enough to get excited about.
David Brine turned up the excitement with his goal just over two minutes after Glumacs goal.  He was standing on the left side of the net and was able to put away a rebound from Jordan Henrys shot from the blue line.
With 1:41 remaining in the thid on the power play P.K. Subban scored to get Hamilton within two.  Salak was on his knees low looking for the puck and Subban was able to put a wrist shot top shelf.
Jeff Taffe scored an empty net goal in his 500th professional game to give the Amerks a 5-2 lead and that's how the game ended.
Alexander Salak recorded his league leading 12th win of the season stopping 28 of 30 shots he faced.
The Amerks play at home on Friday night against the Wilkes-Barre/Scranton Penguins before going on a six game road trip.  The day after Thanksgiving day is typically one of the busiest and if everything goes as planned for the team this game will have the largest attendance in many years.  If you're planning on going make sure to get your tickets early to avoid game night lines.
————–
Rochester Americans 5 At Hamilton Bulldogs 2 – Status: Final
Nov 24, 2009 – Copps Coliseum
Rochester 0 1 4 – 5
Hamilton 0 0 2 – 2
1st Period- No Scoring.Penalties-Mink Rch (delay of game), 3:24; Dadonov Rch (hooking), 10:03; Maxwell Ham (hooking), 16:02; Dadonov Rch (hooking), 18:45.
2nd Period-1, Rochester, Duco 3 (York), 1:43. Penalties-Maxwell Ham (hooking), 2:51; Wilson Rch (holding), 19:25.
3rd Period-2, Rochester, Mink 6 (Dadonov), 3:10. 3, Rochester, Sweetland 2 (Repik, Caruso), 3:57. 4, Hamilton, Glumac 4 (Desharnais, Subban), 4:11. 5, Rochester, Brine 8 (Henry), 6:45. 6, Hamilton, Subban 4 (Glumac, Desharnais), 18:19 (pp). 7, Rochester, Taffe 6 (Brine, Henry), 19:19 (en). Penalties-Desharnais Ham (tripping), 12:16; Repik Rch (hooking), 17:04; Salak Rch (unsportsmanlike conduct), 19:19.
Shots on Goal-Rochester 6-11-13-30. Hamilton 7-8-15-30.
Power Play Opportunities-Rochester 0 of 3; Hamilton 1 of 6.
Goalies-Rochester, Salak 12-1-0 (30 shots-28 saves). Hamilton, Sanford 7-3-2 (29 shots-25 saves).
A-2,715
Referees-Chris Ciamaga (41).
Linesmen-Jesse Wilmot (19), Kevin Hastings (61).