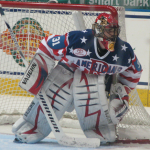 The move that was expected has become official, Alexander Salak will board a flight in the morning to Florida. Based on the reports coming out of Florida there's still a chance Vokoun could dress for the game but Salak will be needed if he's not able to.
Alexander Salak led the Amerks to a 4-1 win over the Manitoba Moose on Tuesday night in Manitoba.  Salak has won 15 games this season.  His only loss came on November 12th against the Portland Pirates.
Hopefully Salak will be back for the games on Saturday and Sunday against Abbotsford.
Chris Beckford-Tseu is expected to get the start for the Amerks on Wednesday night, we all know the history with him.  Hopefully he shows up and plays the best game of his career.