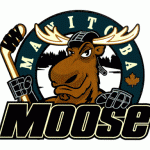 "We are happy the third period worked pretty well for us today," is what Alexander Salak said on the Moose post game show.  That was the key to the Amerks 18th win of the season on Tuesday against the Manitoba Moose.  The final score was 4-1 with goals scored by Repik, Mink, Garrison, and Dadonov.
It's interesting to note that last season at this point the Amerks were 3-18-1, now they are 18-3-1.  Very impressive turnaround.
I often find it interesting to find a defining moment in a game and tonight I think there was two of those.  The first was the Amerks doing a great job killing off a four minute high sticking call to Brady Calla.  The second was the Evgeny Dadonov goal at 14:53 of the third period to give the Amerks the 4-1 lead.  A strong third period and a three goal lead is what the Amerks need to make sure to do every game to be able to hold on to win.
Alexander Salak was outstanding in goal again but will be leaving the team in the morning.
In the post game radio show Benoit Groulx talked about what they needed to improve for tomorrow night and he said, "We cant open up the game, have to be strong in the neutral zone and i think its a way we can improve tomorrow night."
In the end the Amerks played a great game and picked up two points to pull seven points ahead of the Bulldogs, Moose, and Heat in the North Division.  It is still early in the season but these points can be ones looked back upon to see how much they really meant.
Apologies about the shorter than usual game recap.  I like to go into more details about the goals and other players but I have some other things I need to take care of this evening.
Join us in a live game night chat at https://lga585.com/livechat starting at 8:15pm EST on Wednesday night to chat hockey as the game is played.  I'll be doing this for just about every road game going forward this season.
——-
Rochester Americans 4 At Manitoba Moose 1 – Status: Final
Dec 1, 2009 – MTS Centre
Rochester 1 2 1 – 4
Manitoba 1 0 0 – 1
1st Period-1, Manitoba, Keane 7 (Maxwell, Bliznak), 16:16. 2, Rochester, Repik 8 (Taffe, Johnson), 16:37. Penalties-Oberg Mtb (tripping), 10:42; Johnson Rch (interference), 12:35; Salcido Mtb (hooking), 17:46.
2nd Period-3, Rochester, Mink 8 (Taylor, Wilson), 18:08 (pp). 4, Rochester, Garrison 3 (Wilson, Duco), 18:59 (pp). Penalties-Wilson Rch (hooking), 11:15; Bonneau Rch (fighting), 16:59; Desbiens Mtb (holding, fighting), 16:59; Ramsey Mtb (tripping), 17:10.
3rd Period-5, Rochester, Dadonov 3 (Mink), 14:53. Penalties-Calla Rch (double minor – high-sticking), 1:46; Desbiens Mtb (slashing), 7:53; Desbiens Mtb (roughing), 10:08; Duco Rch (interference), 11:54; Rome Mtb (roughing, roughing), 19:12.
Shots on Goal-Rochester 14-13-5-32. Manitoba 11-9-5-25.
Power Play Opportunities-Rochester 2 of 7; Manitoba 0 of 5.
Goalies-Rochester, Salak 15-1-0 (25 shots-24 saves). Manitoba, Schneider 10-6-0 (32 shots-28 saves).
A-6,343
Referees-Andy Thiessen (47).
Linesmen-Jason Lang (54), Ray Damphousse (74).